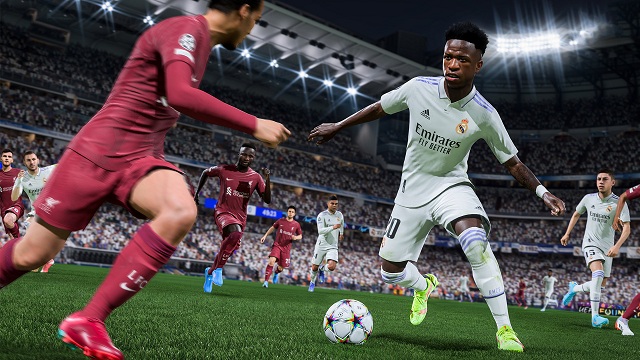 When players play matches in FIFA 23 Ultimate Team mode, they control players to attack or defend on the court. In order to win the match, players should score more goals and defend attack from the opponents. Players who master the useful attacking skills can win more matches in FIFA 23. Do you want to know these attacking skills in FUT 23? You can read this article and learn from these necessary skills. Players can use
FUT 23 Coins
to purchase more good players for your team in order to enhance the attacking ability of your team.
How to Improve Your Attacking Skills in FIFA 23
Keep the Ball in Possession for Attack
For novices, one of the biggest challenges to overcome when playing FIFA is being impatient with the ball in possession. Most of the time, however, they would attempt a risky move which ultimately leads to losing the ball and can lead to a dangerous counterattack.
Keeping the ball in possession and being patient allows you to create many more chances and dictate the match's tempo. Generally, some of the best ways to accomplish this are to change sides with fast ground passes or even high passes and return the ball to your defenders whenever necessary.
Furthermore, you should also set the Build Up Play to Slow Build Up and Chance Creation to Possession in FIFA 23 custom tactics settings, as this will allow you to learn how to attack faster.
Understand When to Sprint and Slow Down
It's important to feel out the balance of when to sprint and slow down during attacks in FIFA 23 since different attacks will require different approaches. Running at full speed won't always be the best move since that can be predictable and easy to block, so feel out what you need and slow down strategically during your attacks.
There is also a new addition of a Speed Boost that can be used during attack moves in FIFA 23, but this is specific to players who have a high acceleration rating, so it won't always be available to use.
Learn to Use New Skill Moves
Use of L1 / LB triggers and one-twos are the best way to create attacking chances when going forward. There are four new skill moves added into FIFA 23, which can be effective in the final third to help break down defences and provide yourself that extra space inside the box to pull the trigger, too. If you are struggling to get past a low defensive block, you do have the new power shot mechanic, to shoot from distance, too.
Player locks have become the darling move of pro players these days, and this requires some practice, but those who have mastered it enjoy benefits over others. It is a hard move and involves a lot of passing between players. The most appropriate pass for this tactic is the square pass. Keeping performing the square pass until you reach the box and then shoot the ball into the post at the right angle to score a goal.
With the help of good attacking skills, players have more chances to improve their levels of attacking in FIFA 23 Ultimate Team Mode. Apart from necessary attacking skills, you can also
Buy FIFA 23 Coins
to find powerful attacking players from the Transfer market, these players can be used to build the attacking line of your team on the court.