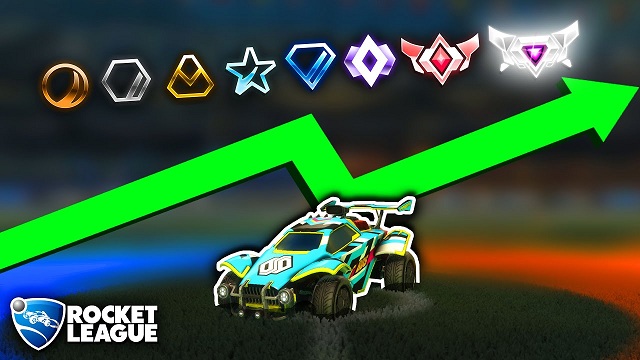 With the coming of new year 2023, many players are eager to climb up high rank in Rocket League. While, the ranking system in Rocket League is challenging for most players. If players want to reach high rank in the game, you have to know necessary tips of winning rank matches in Rocket League. Do you want to know how to rank up fast in Rocket League? You can read this article and learn from the guidance. Players can get
Cheap Rocket League Credits
to level up equipment of cars in order to make the powerful cars for matches.
Ranking up in Rocket League is challenging if you have the time to devote to it, as it just requires a ton of practice and a ton of victories. It's up to you if that seems worth it, but keep in mind that ranked or competitive rewards await you at the end of each season. What you'll get depends on what rank you achieved in one of Rocket League's three main modes.
How to Rank Up Fast in Rocket League 2023
Master the Wall Ride and Ball Control Skills
Above aerial mechanics, you should also train to ride the walls of the arena and bounce off to hit balls in the air when they come past. This is even more complex than aerial strikes but will yield great rewards if you figure it out.
When you're nearing the higher end of the table, you also need to figure out passing and dribbling with the ball, instead of letting gravity dictate where you go, you need to exert control over the pitch by drifting and tapping the ball around and over enemies and into the net. Follow these tips and you should be climbing the leaderboard in no time!
Learn to Cooperate with Your Teammates Well in Matches
Rocket League is a team game. A team consists of three players trying to score as many goals as possible against the opposing goal using the Battle-Cars in the game. And it is a must that there should be proper team coordination to at least score goals, but of course, to win a match at the end.
But Rocket League isn't all just about goals. If your aim is not that good, then you can be the main defender of the game. You can also become a good passer to set up your teammate who you can lean on when it comes to the goals. Use the chat or voice chat functions to at least know a bit of your game plan. Teamwork makes the dream work.
Stop Over-Flipping for Speed Boost
The idea here is most rocket league players are flipping a lot more than they need to. The problem is every time you flip,you get a speed boost, so you feel like you're playing faster. But while you're flipping you're committed in that direction and you're locked through the animation for however long it takes until you land. What happens then is a lot of players will get caught flipping during moments where the ball is changing direction or something new is happening.
If you're stuck flipping during these moments, you're not going to be able to change direction and you're going to react slower than you could have if you were just grounded the whole time. So while this is situational, take a look at your games and try to avoid flipping if you aren't absolutely certain the ball is going a certain way for an extended amount of time. Just by saving your flip and staying grounded, you're going to be able to get to balls way quicker and ultimately make more beats in your games.
Mastering essential tips of winning rank matches is good for players who want to climb up the rank board fast in Rocket League. At the same time, you can
Buy Rocket League Credits
to upgrade your cars and use them to score more goals in the game. A well-equipped car plays an important role in attacking on the court.