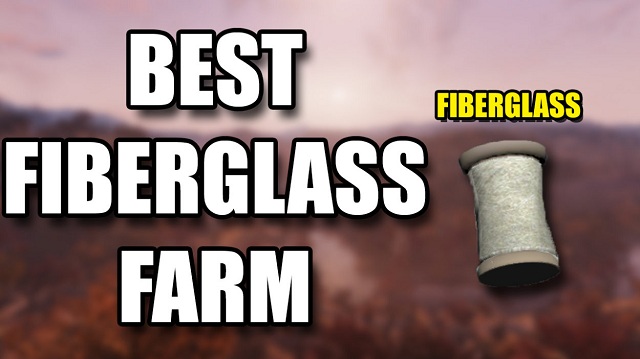 In the world of Fallout 76, there are different kinds of materials waiting for players to collect in the game. These materials can be used to craft armor, weapons, or workshop items. Fiberglass is one of these common materials in Fallout 76. Players are wondering about how to obtain Fiberglass in the game. We will tell you where to find and get Fiberglass in the article. Players can get
Cheap Fallout 76 Bottle Caps
to buy necessary materials and craft good gear for characters in the game.
What's the Fiberglass material in Fallout 76?
Fiberglass in Fallout 76 is a type of plastic strengthened with glass fibers that are distributed randomly to form a flattened sheet or woven together to create fibers. This material is used for the creation of lightweight armor and weapons, as well as power armor. It is also essential for modifying energy weapons, creating explosives, and crafting workshop items.
In addition, Fiberglass has the advantage of being both durable and lightweight. Due to this property, it can be used to craft armor that offers protection while not weighing down the wearer. Furthermore, Fiberglass is also needed for weapon mods.
Where to Find Fiberglass in Fallout 76
The Top of the World is a landmark in Appalachia, located east of White Powder Winter Sports, south of the Seneca Rocks Visitor Center, and north of the Beckwith Farm. According to Fallout 76 content creator PoxiiPro, the Top of the World and its nearby winter resort contains an abundance of Composite Skis and Ski Swords that can be scrapped at a Workbench in Fallout 76 to make Fiberglass. While the area does have a few enemies, it is a generally quiet landmark, making it an excellent location for casually farming a good portion of Fiberglass stacks. Another decent spot for scrap-farming Fiberglass in Fallout 76 would be The Whitespring Resort, a location in the Savage Divide containing plenty of Telephones for scrapping.
How to Obtain Fiberglass in Fallout 76
As you can tell, the list of items that contain Fiberglass is fairly short compared to most other crafting components in the game. Luckily, you can find a pretty large number of telephones around Whitespring Resort that contain the material. You can also find plenty of composite skis around the Pleasant Valley Ski Resort. On top of that, you can gather Fiberglass from enemies found around the map.
Kill More Wendigos for Drops
The enemy that most commonly drops Fiberglass Spools is Wendigos. These terrifying Ghouls are very tough to beat unless you are appropriately leveled. The most common areas to find these creatures are around the Wendigo Cave and Fort Defiance. If you want to find a large number of Wendigos, you can participate in the Colossal Problem event that takes place in Monongah Mine. During this event, you will find a ton of Wendigos and plenty of Fiberglass Spools.
Players who want to collect more Fiberglass in Fallout 76 should travel around more places and explore deeply for them, and you can also follow the guidance to get enough Fiberglass in the game. Players can
Buy Fallout 76 Bottle Caps
to purchase the suitable items or weapons for characters, which can help them complete more quests and level up quickly.