Fortnite Quest Guide: How to Complete Slide for 30 Meters on Ice in Fortnite Chapter 4 Season 1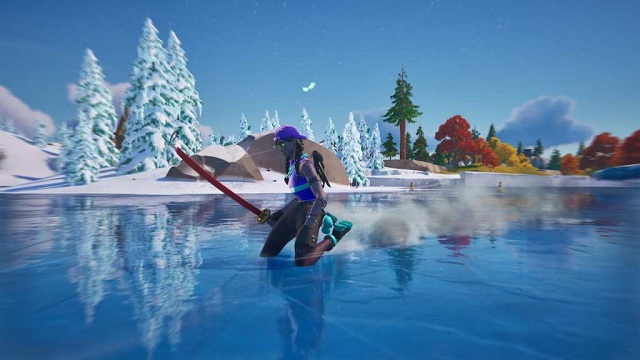 In Fortnite Chapter 4 Season 1, there are some challenging quests waiting for players to complete. When completing these quests, players will get good items as rewards. One of these new quests is that slide for 30 meters continuously on ice. It is not easy for players to slide more than 10 meters on normal grounds. So, they have to find good locations to complete this quests. Do you want to complete this quest in Fortnite? You can read this article and learn from the guidance. Players can get
Cheap Fortnite V-BUCKS
to select various skins or cosmetics for characters in the game.
How to Slide for 30 Meters Continuously on Ice in Fortnite Chapter 4 Season 1
Slide for 30 meters continuously on ice is a weekly challenge in Fortnite Chapter 4: Season 1 that requires players to gain momentum while moving on an icy surface to hold "Crouch" while moving over a 30-meter distance. While this challenge's objective is straightforward, many players might need help to figure out how the action can be achieved.
On the ice, the player will slide much more easily than they would normally - this is one of the various mechanics in Fortnite. However, it's not impossible to come to a full stop suddenly. So, in order to complete this quest, finding a large body of water that's been frozen over might not be enough - especially when the player must slide continuously for a minimum of 30 meters without being interrupted.
You'll need to head to the snowy part of the map to find ice in the places where the island has frozen over. There's a large frozen lake on the northwest part of the map, and that's your best bet at sliding continuously for 30 meters. There's a downward slope of ice leading onto the lake that makes it an especially good place to slide.
Once you have a good spot, simply sprint on the ice and slide downhill to the best of your ability. To complete this quest, you only need to slide 30 meters, which is really easy to pull off if you have a slight decline. Getting the challenge done will be impossible uphill and much harder on a flat ice surface. But the ice in general will make a continuous slide much easier.
Just run down the slope and then hit the crouch button, which is Ctrl on a keyboard, or press the right thumbstick on a controller. Once you're down, don't press anything and let your character powerslide down the ice and onto the lake until you either stop or get the notification you completed the quest. You may need to try more than once, depending.
Once you have arrived at the lake, you need to start running by holding shift, then hit the crouch button to slide on the ice. From here, you just need to ensure that your character keeps sliding until you see the quest completed notification on your screen. It's also important to note that you shouldn't press the jump button while still sliding, as this will cancel the slide and reset the quest. Upon successfully completing the quest, you will be rewarded 16.000 XP, allowing you to gain battle stars to level up your battle pass.
Finding a good spot to finish the Slide for 30 Meters continuously on ice is important in Fortnite. Players can follow the guidance to complete this quest for rewards easily. In addition, players can
Buy Fortnite V-BUCKS
to unlock more good skins or items for characters from the game-shop.