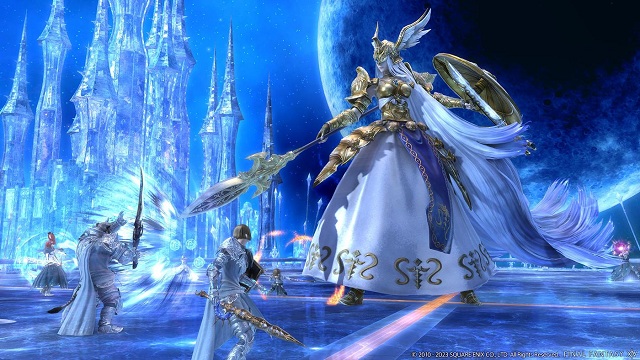 With the new update of Final Fantasy XIV Patch 6.3, there are a lot of new activities introduced into the game. One of the most excited activities is the Final Fantasy XIV Euphrosyne Raid. Many players are wondering about how to unlock this new raid in FFXIV. If you are also interested in entering this raid, you can read this article for guidance. Players can get
Cheap FFXIV Gil
to buy more good weapons or gear for characters in order to enhance their abilities.
What's the Euphrosyne Raid in Final Fantasy XIV?
Euphrosyne is the newest 24-player alliance raid introduced to Final Fantasy XIV in Patch 6.3. This is the second part of the Myths of the Realm endgame storyline that pits you against The Twelve through a series of boss battles. Completion of the previous raid Agalia and its subsequent quests are required to access Euphrosyne.
How to Enter the Euphrosyne Raid in FFXIV
To jump into the latest raid, players will have to complete all previous additions to the Myths of the Realm side quest chain. This includes clearing the main scenario of Endwalker by being level 90 with at least one combat job. In addition, players will also need to have completed the Final Fantasy XIV Aglaia raid.
You can unlock the Euphrosyne Alliance raid in FFXIV by talking to Deryk at Mor Dhona (X: 23.9 Y: 9.1). However, four requirements must be met before you can unlock the quest:
Level 90 Disciple of War Magic
Completed Endwalker MSQ
Item Level 595 or higher
Completed "Chronicles of New Era"
EndWalker MSQ requires the Level 90 Disciple of War Magic to complete. You can quickly go to any marketplace and purchase any item you need to save on Gil. Buy and equip one thing at a time until you reach level 595. remember, you do not have to buy every item above 5.95 to reach item level 595. So choose wisely according to your game requirements.
Most of you might already complete the Chronicles of New Era in the 6.1 patches. If you still need to complete this quest, you can start the search and beat Agila by talking to Fresh Face Student at Baldesian Annex in Old Sharlayan.
Euphrosyne is a level 90 raid, which requires 24 players. The minimum average item level is 590, and you'll need to reach this to be able to enter the raid. The raid sees you take on four more of the gods of Eorzea in their own realms, as they try and test your mettle, and you attempt to unravel the mystery of what these beings are, if not primals or gods.
Rewards for the Euphrosyne alliance raid include a new minion, orchestrion rolls, and a new set of armor. Additionally, once per week, you'll receive a Euphrosyne Coin, which you can exchange alongside an Aglaia Coin for an upgrade item for certain armor, weapons, and accessories.
Players can exchange Euphrosyne Coin for Moonshine Shine or Moonshine Twine. This is done by speaking to the NPC vendor Nesvaaz in Radz-at-Han (X: 10.6 Y: 10.0). These materials are used for upgrading Lunar Envoy gear pieces (ilvl 620) to Augmented Lunar Envoy gear pieces (ilvl 630). Lunar Envoy gear is acquired with Tomestones of Causality.
Many players are willing to enter the Euphrosyne Raid for good rewards in Final Fantasy XIV. In order to maintain the requirements of this raid, players can
Buy Final Fantasy XIV Gil
to level up their weapons or characters quickly in the game. And you will have more chances to join in the raid.