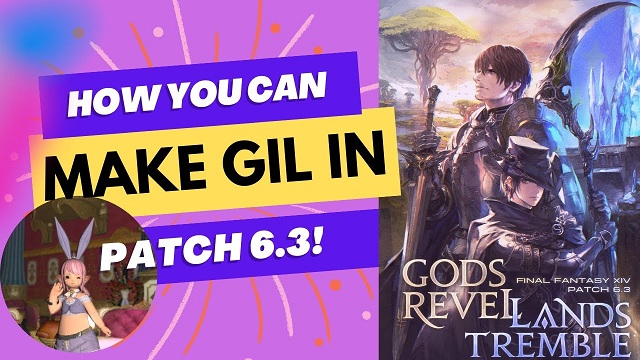 As the update of Final Fantasy XIV 6.3 version, there are many new items and gears added in the game. Players need collect these new items and gears to upgrade their characters. While, these gears costs a lot of Gil in FFXIV. Do you want to know how to earn Gil fast in FFXIV 6.3 version? You can read this article for guidance. Players can get
Cheap FFXIV Gil
to unlock rare materials and craft good gears for characters in the game.
The Importance of Gil in Final Fantasy XIV
Gil is FFXIV's main currency and is used to acquire most of the game's items from vendors and other players alike. Players can buy the simplest items from vendors while also investing millions on a mount sold on the Market Board, for instance. It is also required to participate in FFXIV's troublesome housing lottery system.
It is used for, virtually, everything in the game, even traveling from one city to another or repairing equipment. Those who have a large amount or a steady income of Gil do not need to worry much about how they play the game, while those with smaller quantities usually plan around their limited budget.
How to Earn Gil Fast in Final Fantasy XIV
Learn Crafting and Gathering in FFXIV
If you want a steady Gil income to (ultimately) get rich in FFXIV, you might want to find yourself a job. There's plenty of choice: you can become a Weaver, a Carpenter, a Culinarian, or even a Botanist. While most of these professions involve item crafting (the Disciples of the Hand), a few are focused on gathering materials instead (Disciples of the Land).
Gathering materials provides an easy source of income, as they're always in demand (especially Miners). Crafters often prefer to buy materials rather than search for them, so even the most basic materials will sell on the Market. Eventually, you can sell or complete Treasure Maps too (more on that later).
Although all crafting professions have their uses, the Armorer, Goldsmith, and Alchemist tend to make the most valued items. Keep in mind that leveling these professions means being able to craft better gear, which will ultimately fetch the most Gil.
Find More Treasure Maps
One of the most well-known and effective methods of obtaining Gil without having to craft or gather in-game–treasure maps! To begin, in order to obtain Treasure Maps in Final Fantasy XIV, players must first complete the blue quest 'Treasures and Tribulations' in Eastern La Noscea.
Players can easily obtain the Treasure Map required through the Market Board for a reasonable price and then proceed to hunt for their treasure. Specific Treasure Maps (Dragonskin, Gazelle, Zonureskin, and Kumbhiraskin) can also spawn Portals, which teleport players into a synced instance when touched, allowing them to test their luck and fortune. To clear the portals, it is always recommended to go with a party of at least three or four players.
Collect Diadem materials
While it's well-known that crafters make money by selling their goods on the market board, it may not be immediately obvious that gatherers have the same gil-making potential. Crafting and gathering are entwined in Final Fantasy XIV, but it can take a very long time to level them side by side. Gathering your own materials is a long and tiresome process.
This brings us back to the principle of convenience. Most crafters would rather purchase materials off the market board than gather them. Diadem materials are the easiest to sell. Crafters that are leveling will always need those materials for their Restoration turn-ins. If you want to start making gil right away, get a gatherer to Level 10 and hop in the Diadem. You'll walk away with plenty of materials that are pretty much guaranteed to sell on the market board.
If you want to earn more Gil in FFXIV 6.3 version, you can experiment these mentioned ways in the game. You will gather enough Gil by keeping completing quests. While, you can also
Buy FFXIV Gil
to get powerful gears early and explore more challenging dungeons.