Final Fantasy XIV Abyssos Raids Guide: How to Unlock Pandaemonium Abyssos Raids in FFXIV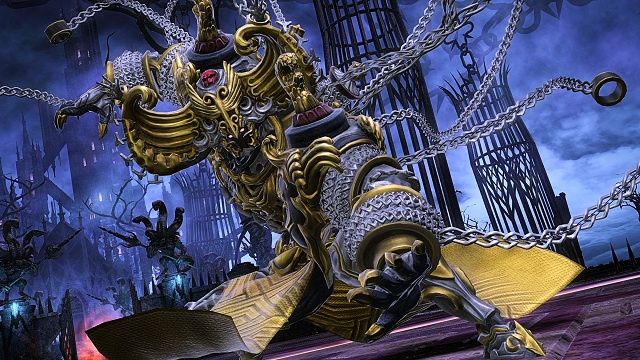 Final Fantasy XIV update brings many new contents to players. Players who want to get the best gear have access to try the Pandaemonium raids in the game. While the abyssos raid is not easy to complete, we will provide you with good guidance which helps you pull through each challenge in FFXIV. Players can use
Cheap FFXIV Gil
to upgrade their weapon or gear in time and they can help you a lot in the later quests.

How to Unlock Pandaemonium Abyssos Raids
Once you've done all that, talk to Claudien in Labyrinthos (X: 8.6, Y: 27.5) to accept the quest "An Unwelcome Visitor." The researchers of Labyrinthos have more to discover in the deep past, and you'll certainly need to have another discussion with Themis and Erichthonios. Especially since the latter is likely going to meet his father, Lahabrea, if the patch trailer is any indication.
Before you rush to start the quest, remember that you need to have a Disciple of War or magic at Level 90 and have your gear up to Item Level 585. The easiest way to reach this mark is to have been keeping up with your Aglaia runs, as that raid offered iLvl 590 gear. If you've kept up with your Tomestone gear (with the Radiant gear set) or Augmented Classical gear, you'll be in the clear.
Once you've completed the quests and reached the requirements, the first Circle of Abyssos will be available in the Duty Finder.
Normal Abyssos Raids
Each of the four fights will drop a number of Unsung [armor type] of Abyssos. Players can only obtain one a week, for a total of four. In addition, players will get one Unsung Blade of Abysoss for defeating Hephaistos each week. These can be traded to Final Fantasy XIV merchants Djole in Radz-at-Han or Mylenie in Labyrinthos for item level 610 goods.
Weapon: Seven Unsung Blades and 500 Tomestones of Causality (350 for Paladin Sword)
Helm: Two Unsung Helms; dropped by Proto Carbuncle, Hegemone, and Agdistis
Body: Four Unsung Armor; dropped by all bosses
Hands: Two Unsung Gauntlets; dropped by all bosses
Legs: Four Unsung Chausses; dropped by all bosses
Feet: Two Unsung Greaves; dropped by Proto Carbuncle, Hegemone, and Hephaistos
Accessory: Two Usung Ring; two dropped by all bosses
Loot Gear from Savage Raids
Getting loot from Savage raids is a bit different from normal raids. Each raid will drop generic coffers for different equips. You will need to open the coffer as the job for which you want the gear.
Some raids will also drop materials needed to augment Tomestone of Causality gear. You will also get one Abyssos Mythos per clear, a token that you can trade for equipment. However, in order to get all the loot to drop, there are party requirements:
Two treasure chests will only show up if all eight party members have not previously cleared the fight that week.
If one to four of the players in your party have already cleared the fight that week, only one chest will appear. If more than four people in your party have cleared the fight earlier in that week, no chests will appear.
You will need to clear each fight in order in order to get two chests to appear.
If you skip ahead to do the fights out of order, the previous fights will be considered "cleared," and you will lose out on a treasure chest (or two, depending on the people in your party). You will also not get any Mythos for skipped fights for that week.
If players want to meet the weapon requirement of Pandaemonium Abyssos Raids, you can
Buy Final Fantasy XIV Gil
to purchase the suitable gear to unlock this raid. And you have access to obtain more good rewards including best gear in the process of questing.