WoW WotLK Classic Healer Class Guide: Best Healer Classes in Wrath of the Lich King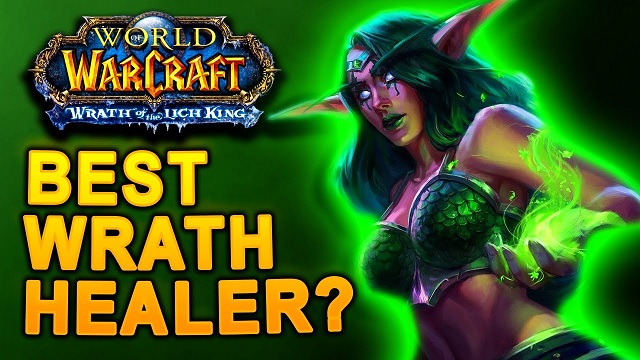 Many players think that Healing in Wrath of the Lich King Classic is a good choice for them in the beginning. While, there are many different healing classes in the WotLK Classic. What's the rank tier of best healer classes in WotLK? Do you have an answer about it? We have listed the tier of Healer Classes in this article. You can check it and offer your opinions. Players can use
Cheap WotLK Gold
to upgrade their characters quickly and try to complete more dungeon raids for good rewards in the game.

Best Healer Classes in Wrath of the Lich King Classic
Holy Paladin S-Tier
Holy Paladins were already effective during the original Wrath of the Lich King run. They'll be even better with over a decade of theorycrafting and optimization. A wide host of buffs help improve the Holy Paladin toolkit. Avenging Wrath is a great cooldown when needed. Holy Light sees buffs via new talents in the Holy tree. Holy Shock's cooldown is reduced to 6 seconds. There's a lot to love what the tried and true Holy Paladin abilities are up to. The new stuff, however, is the icing on the cake.
Beacon of Light is a dream come true, allowing Paladins to heal additional targets beyond their focus. It's a powerful talent capstone in the Holy talent tree and an absolute dream come true. Sacred Shield is another powerful ability, giving the healing target (usually the main tank) a damage absorption shield. Divine Plea helps ensure that mana issues are a thing of the past.
Restoration Druids A-Tier
Restoration Druids are largely unchanged in Wrath of the Lich King, as our playstyle remains extremely similar to how it was in TBC. That is a testament to the fact that we were already pretty well designed. We now find ourselves on the top of the A-tier, arguably the 2nd or 3rd best healer in the game — Discipline Priests certainly give us a run for our money. Most raids will feature 1 Resto Druid, though it won't be extremely uncommon to see 2.
Lifebloom sees a pretty big nerf in Wrath, as its mana cost is severely increased, and it restores 50% of its mana cost when it blooms. This is intended to discourage us from endlessly "rollling" Lifeblooms (renewing them on a target just before they expire) and instead push us towards letting them bloom as much as possible — a pretty significant nerf to our single-target healing and mana efficiency. To compensate for this, we get Nourish as an on-demand single-target heal, which does a legitimately great amount of healing, but doesn't make up for the Lifebloom loss.
Resto Shaman B-Tier
They're definitely not as sought after as they were in TBC Classic. Bloodless and heroism is a raid wide buff now, not a party-wide one. Also all of the buffs that a resto shaman can provide can also be provided by other classes now, so they're not really seen as good. An elemental or enhancement shaman can also bring the spell haste totem as well. So now they have much less unique support, but they still bring great support abilities like earthshield that you just leave on the tank whenever he takes damage he heals up a little bit just makes tank healing much easier. Manatai totem is even more powerful now plus they can also remove curses now.
Restoration Shaman's ranking as B is due to the knock they took with the nerfs to their heals and major mana cost spikes. Their setting up of totems and longer casting times per spell means that a low-geared shaman would struggle through early dungeons/heroics and beginner raids.
We have concluded the rank list of healer classes in this article. If players want to select the healer class in WotLK Classic, you can follow the guidance to choose the best. In order to build the best Healer Class in WotLK, players can
Buy WoW Classic WotLK Gold
to get good equipment for them.