Genshin Impact World Boss Guide: How to Find And Defeat Jadeplume Terrorshroom Boss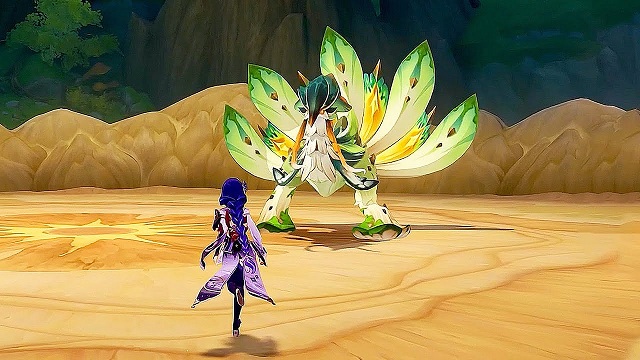 Due to the release of Genshin Impact 3.0 update, players have access to explore the new region called Sumeru. There are many new quests and storyline for players to complete. And there are also some new world bosses in this region. One of them is the Jadeplume Terrorshroom. Players want to find its location and defeat him for good rewards. You can find guidance after reading this article. If players want to level up characters quickly, you can use
Cheap Genshin Impact Genesis Crystals
to collect more relevant materials for upgrading.

The Location of the Jadeplume Terrorshroom in Genshin Impact
To find the Jadeplume Terrorshroom in Genshin Impact, you'll need to head to the northwestern edge of Sumeru (well past Vanarana). If you're gliding from a fast travel point that's higher up, you should see a portal in mid-air. Alternatively, you can also follow the road that leads to a clearing. There's a bouncy mushroom here that you can jump on, as well as a grapple point, that allows you to pass through the portal.
Characteristics of Different States of the Jadeplume Terrorshroom:
Activated state: The Jadeplume Terrorshroom will get enraged and deal burst damage, but will enter a Stunned state for 15s afterward.
Scorched state: The boss will not attack but will instead summon some Scorched Floating Dendro Fungus. Players will have a lot of room to attack the Jadeplume Terrorshroom when it's summoning its minions.
Normal state: The Jadeplume Terrorshroom will not summon minions or deal burst damage, but players have to deal with its various moveset.
How to Defeat Jadeplume Terrorshroom in Sumeru Region
Use Electro and Dendro: These two elements come together to create the Quicken, Aggravate, or Catalyze reactions, which will cause the boss to go on a short rampage and use one of its three special moves. This sounds like a terrible idea, but once a special move is used, the bird needs to rest. The Jadeplume Terrorshroom will be immobile for about 15 seconds after each tantrum, providing the perfect opportunity to deal massive damage.
Avoid Adopting Pyro: Pyro attacks will cause the boss to become Scorched, which will lead to an annoying situation. When Scorched, the Jadeplume Terrorshroom shoots out seeds that become new fungal enemies. These fungi will harass you throughout the rest of the fight if they aren't taken care of immediately.
Rewards of Defeating Jadeplume Terrorshroom
Once you've defeated this incredibly world boss, you'll be rewarded with a few different items, the most important of which is the Majestic Hooked Beak, which is an ascension material for both Tighnari and Collei.
The List of Whole Rewards
Adventure EXP
Companion EXP
Mora
Nagadus Emerald items
Majestic Hooked Beak
Gladiator, Troupe, Instructor, and Berserker artifacts
Advice of Team Composition:
Main DPS Character: The majority of the boss's moves are close-range attacks, so the easiest way to defeat it while staying alive is to use long-range characters. Tighnari, Collei, and the Traveler can all apply Dendro effectively from a relatively safe distance.
Sub DPS Character: When it comes to Electro, Fischl, Yae Miko, and Lisa are good examples of characters who can do the same.
Support Character: Be sure to bring either a healer or a shielder to keep the team alive, just in case the worst happens. Diona can fill both of those roles, but Cryo can't react with Dendro, so characters like Kokomi, Zhongli, Barbara, Noelle, and Shinobu are preferred.
Although the world boss is not easy to beat in Genshin Impact, many players still try to kill them for good rewards. In order to build the best team for questing, players can
Buy Genshin Impact Genesis Crystals
to equip good gear for them and level up their basic stats at the same time.