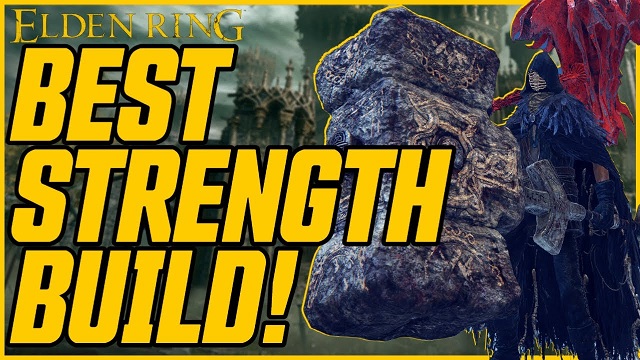 Are you looking for the best Elden Ring Strength build in Elden Ring? Some players are especially like the Strength attribute in the game, and they wan to make the character become the strongest one in Elden Ring. To achieve this goal, you have to know how to distribute your attribute points when you level up, and which items and spells you need actually. In this guide, we will tell you how to make it. Players can use
Cheap Elden Ring Runes
to purchase good armor and weapons for characters, which can improve their capacities in battle.
Strength builds generally rely on bigger weapons and heavier armour, though there's a lot of room to change things up. If sword and board is more your style, or if you like to be able to dodge away from enemies with ease, this guide covers those options, too.
Best Strength Build in Elden Ring
Weapon: Giant-Crusher
Our Elden Ring Strength build is all about dealing huge chunks of damage in a single hit. To achieve this simple goal of unparalleled strength, we use a range of items to buff the physical damage that you deal with your weapon. For this build, we focus on the Giant-Crusher, a truly phenomenal weapon that you can evel dual-wield in new game plus.
For this build to work, you will need the Giant Crusher. This monstrous weapon can be found in the Altus Plateau and requires a whopping 60 Strength to use. Ideally, you want two of them - one in each hand - but one will work fine if you can't get a trade.
To make the Giant Crusher sing, you will want to make it a Heavy Giant Crusher and equip the Royal Knights Resolve Ash Of War. This Ash will make your next attack deal around double damage, which is ludicrous considering the weapon we are using. If you have two, you will want to put Royal Knights Resolve on both hammers for even more fun.
Armor
Since this build has you invest a decent amount into endurance, you can afford to wear some heft armor sets to provide some incredibly useful defensive stats. The Twinned Armour from D or the Royal Remains armor are both brilliant options for players early on. Regardless of your options, be sure to stick to a medium equip load, as maintaining a fast roll is crucial throughout the game.
Talisman
You are free to use what you feel is right. The Green Turtle Talisman can increase your Stamina regeneration, the Axe Talisman can make your charge attacks stronger, and the Great Jar's Arsenal will bump up your Equip Load.
Stats Requirements of Elden Ring Strength Build
60 Strength
60 Endurance
15 Faith
If you want to make a pure Strength character, this build is your best option. The three main stats you need to level are Vigor, Endurance, and Strength. You'll need plenty of health and stamina to wear heavy armor and tank hits, and since two-handing your weapons increases your effective Strength by 50%, having 55 Strength effectively gives you 77 Strength whenever you use your weapons this way. This gives you incredible damage output that will flatten any enemy or player you encounter, especially if they're lightly armored and don't have a lot of health.
The powerful strength build character will help you defeat more fierce enemies and complete more quest in Elden Ring. While you have to level up your basic stats to reach the requirement of this strength build, you can
Buy Elden Ring Runes
to upgrade them quickly. You will experience this crazy character in a short time.