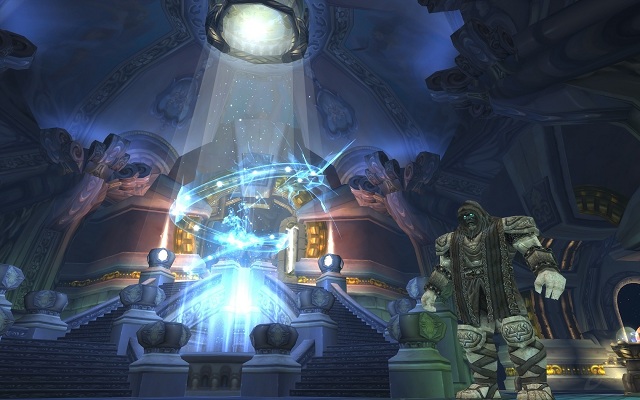 WoW Series players are always looking forward to joining in the various events and getting rewards. Now, the WoW WotLK Timewalking event is coming for players. Many players expect to take part in this event and obtain good rewards in the game. If you are also interested in this WotLK event, you can read this article and know more information. Players can get
Cheap WoW WotLK Gold
to level up your characters and reach the requirements of dungeons or raids in the event.
What are the Timewalking Event in WoW WotLK Classic?
Timewalking Events allow you to jump back into old dungeons with a group and complete old content for new/current rewards. Your gear will be scaled down to the timewalking dungeon you are joining. The items that drop in these instances will be scaled up to the current expansion.
You'll also be able to collect a currency known as Timewarped Badges from completing event quests and timewalking dungeons. These can be traded in for cool items such as mounts and toys.
How to Join in WotLK Timewalking Event 2023
Starting March 28, the Turbulent Timeways event will give World of Warcraft players six consecutive weeks of Timewalking, with each week focusing on one expansion before shifting to another. The weekly expansion order for the Turbulent Timeways event will start with Cataclysm, then go to Mists of Pandaria, Warlords of Draenor, Legion, The Burning Crusade, and finally end with Wrath of the Lich King. During the event, players will be able to use the Dungeon Finder to experience dungeons and boss encounters from years past, such as Temple of the Jade Serpent and Utgarde Keep, while the respective expansion window is active. In addition, Timewalking vendors will be up in their respective expansion hubs for players to spend Timewarped Badges earned during the event. These vendors will have gear and cosmetic toys for players to collect.
Players that want to take part in Turbulent Timeways will be able to pick up a special Timewalking quest in Valdrakken from Kazra, which will require players to clear five Timewalking dungeons. Upon completing the quests, players will earn a cache containing a piece of Heroic Vault of the Incarnates gear ranging from item level 402 to 411. While the Timewalking rewards are usually item level 389, getting a higher item level item will undoubtedly be useful for World of Warcraft players that want to catch up on gear.
WotLK Timewalking Event Rewards 2023
During Timewalking, dungeon bosses can drop rewards that they would normally drop on Heroic difficulty. For example, despite the difficulty being normal, you can get the Blue Proto-Drake from Skadi the Ruthless in Utgarde Pinnacle. You'll also have the chance of receiving the Reins of the Infinite Timereaver. This epic dragon mount only drops during the Timewalking Event.
During a Timewalking event, players at level 60 or higher can access the Timewalking Dungeon Finder queue to revisit past dungeons from a specific expansion. The system scales players and their armor items down to the level of these dungeons. This is a great opportunity for players to experience content they may have missed in the past
In summary, the 2023 Timewalking Calendar and Dungeon Events in World of Warcraft offer players a chance to relive old content, with different expansions rotating every 3rd week for a total of 18 events per year.
With the Dungeon Finder queue, players can experience past dungeons from a specific expansion at the level they were intended to be played, allowing for a unique and challenging experience.
Players who want to get rare mounts or gears can join in the Timewalking Event and complete dungeon raids or quests. And you can also
Buy WoW WotLK Classic Gold
to upgrade your weapons or gears, which help you defeat more enemies or bosses in the quest.