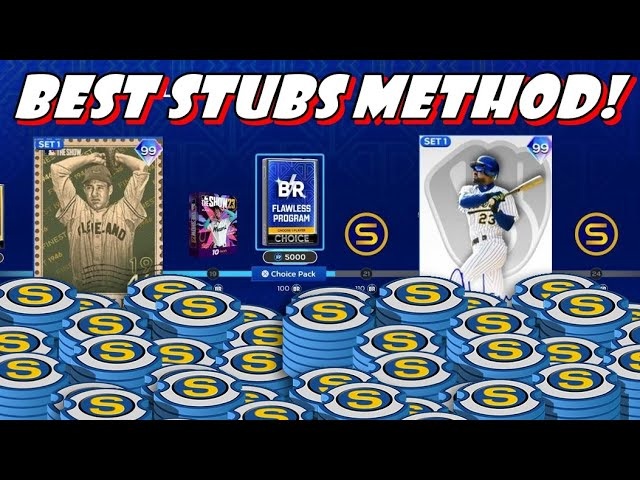 In order to build the best team in MLB The Show 23, players have to gather powerful player cards from the transfer market. These high rating player cards cost a large amount of stubs in the game. So, if players want to build the best team in Diamond Dynasty mode, they need farm enough Stubs. Do you want to know how to earn Stubs fast in MLB 23? You can read this article and learn from the article. Players can get
MLB 23 Stubs
to gather good player cards, which enhance the capacity of your team in the matches.
How to Earn MLB The Show 23 Stubs Fast
Win Mini Seasons Championship
MLB The Show 22 introduced a new single-player mode in Diamond Dynasty, Mini Seasons. Players go through an entire 28-game season against CPU teams in three-inning contests. Winning the championship awards 10,000 Stubs.
Although you are playing against the CPU, opponent teams use actual rosters from other Diamond Dynasty players, so you need to be ready to face stacked lineups. MLB The Show 23 adds a new element with theme seasons, forcing players to build unique teams, like a lineup full of lefties.
Complete MLB 23 Programs
One of the best ways to not only earn Stubs, but also to earn new players, is through MLB The Show 23's programs. Right now, the main one to complete is called Face of the Franchise, and as you gain XP through normal play and completing challenges, you'll earn levels. Many of these come with Stubs bonuses, and those that don't often come with great players you can place on the marketplace to get a nice bonus if they don't fit with your team's roster. Even XP you earn in modes outside of Diamond Dynasty will count toward these programs, too.
Sell Extra High Value Player Cards
If you open packs and get lucky enough to earn a card that is selling for a super-high value on the market, it might be worth selling them off to get a ton of Stubs to help fill out your team or use for other things.
While it might be enticing to have someone like Ronald Acuna Jr. on your Diamond Dynasty squad, his asking price on the market could fetch you something like 50-plus packs or several other high-quality players selling on the marketplace.
Complete Your Moments
Moments are bitesized gameplay challenges inspired by historical and contemporary baseball events. These can be as simple as striking out a single player or as complicated as taking a match to extra innings and earning the walk-off win. Completing Moments will typically earn you Stubs and Program progress, as well as additional rewards. In order to maximise the amount of Stubs you earn when completing Moments try to finish full sets, as completing all of the tiers in a given category will award you with bonus Stubs that you can then spend as you please.
Collect and Exchange Player Cards
As you complete Programs, finish challenges, and build up an extensive card collection, there are plenty of ways to earn Stubs with the cards you have. By going into the Collect tab in Diamond Dynasty, you can collect players, equipment items, uniforms, and more to earn Stubs.
Once you submit cards, you can no longer sell them but the rewards are worth it. The Show also has a feature that allows you to exchange players for silver or gold ones, though we don't recommend doing Exchanges. The reward rarely equates to what you give up in return.
Players can experiment these mentioned ways to earn Stubs fast in MLB 23. And you can also
Buy MLB The Show 23 Stubs
to purchase powerful player cards and build the diamond team in the game.