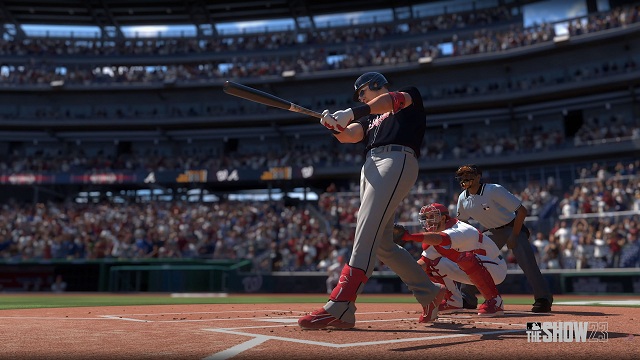 As players are playing matches in MLB The Show 23, they expect to hit more good balls and score more points in the match. So, it is necessary for them to improve their hitting skill. We are going to list several useful tips for players to hit more goal in MLB 23 matches. Players can use
Cheap MLB 23 Stubs
to level up characters quickly in the game.
Useful Tips for Players to Improve Hitting Skill in MLB 23
Adjust Analog Stick Grip
If you want to have the most control over the results of your swings, it's imperative that you're using zone hitting (rather than directional or timing), which comes with a plate coverage indicator that you'll need to use to track and square up the ball as it comes at you. The trouble with controlling this PCI is that there's a tendency to jam it too hard in one direction with your thumb as a pitch approaches. If this is something you're struggling with, try changing up how you grip the analog stick.
Some people have a lot of success with a "claw" method where you hold the analog stick between your thumb and index finger. I personally try to keep the analog stick in the crook of the knuckle on my thumb, as it tends to minimize any sudden movements and allows me to move the PCI around within the strike zone without flying too far from my target.
Take Advantage of the Timing
When it comes to hitting, timing is everything. The window of opportunity to strike a fast-moving ball is often minuscule, and a fraction of a second can be the difference between a home run and a miss. Therefore, understanding and mastering the timing of your swing is paramount in MLB The Show 23.
Timing is not just about reacting to the pitch as quickly as possible. Instead, it involves anticipating the pitcher's throw and aligning your button press with the exact moment the ball enters the strike zone. Paying attention to the pitcher's windup and release point can provide vital clues to improve your timing. Perfecting this technique requires practice, but the payoff is well worth the effort. Pay attention to the graphic after each pitch showing your swing timing – should you swing – and adjust accordingly.
Know the Sweet Spots
There are three indicator reticles while using zone hitting, each signifying a different kind of hit. The top reticle is the perfect spot for a power swing, the middle one is perfect for a regular swing, and the bottom one is perfect for contact swings.
A power swing on a ball that hits the contact reticle will result in a weak grounder and a contact swing on a ball by the power reticle will be a weak pop fly. Choose a swing and then focus that particular reticle on the ball.
Use Contact and Power Swing
If you're playing in Diamond Dynasty, players can have hitting ratings up to 125. This means that some cards are going to be 125 in contact, but only 65 in power. This means that they are more likely to not hit home runs but rather score multiple base hits. In this instance, it may be better to use the contact swing to force the ball into play. This is more likely to produce a ground ball, but it could still go drilling past the infielders if things go right. On the other end of this spectrum, power hitters are more likely to swing and miss, but they also destroy pitches they do catch on to. Understanding which stats your current batter has is critical to every at-bat.
You can read these tips and try to master them in the practice mode in MLB 23. And we hope that you can improve your hitting skill by insistent practice. You can also
Buy MLB The Show 23 Stubs
to upgrade basic equipment for characters in the game.