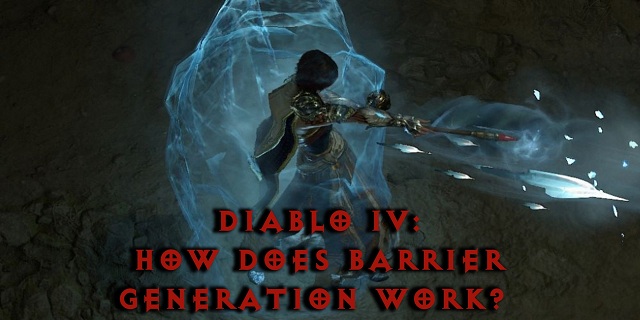 When players are playing Diablo 4, they are willing to improve the abilities and stats of character in the game. Powerful characters help them pull through difficult dungeons in the game. And you should also know the Barrier Generation mechanism in the game, which can be used to shield the life from enemies attacks in Diablo 4. Do you want to know how to use Barrier Generation in Diablo IV? You can read this article and learn from the guidance. Players can use
Cheap D4 Gold
to unlock powerful gears for characters in the dungeons.
What's the Barrier Generation in Diablo 4?
Barrier refers to a secondary shield in Diablo 4. You can get a blue shield around your character by activating a skill that generates a barrier. This Barrier will act as a protective shield that makes you immune to all sorts of attacks for a limited duration. So, you will lose your immunity as soon as the timer runs out. In other words, the ability to forge a protective shield, aka a Barrier, around your character by using various skills, Aspects, and items is known as Barrier Generation.
How to Get a Barrier in Diablo 4
One of the most common ways to get a Barrier in Diablo 4 is seen at early levels is the Aspect of the Protector, which has a chance to build a Barrier whenever you attack an Elite enemy. This Affix can be found during some of your first Legendary gear drops as you travel through Sanctuary. If the exact piece with this Aspect doesn't appeal to you, the Occultist vendor can salvage this ability so that you can put it on something else.
Many other Aspects only work when your character already has a Barrier created, but only the Barbarian, Druid, and Sorcerer in Diablo 4 have the natural skills to make a Barrier. For example, the Druid's Earthen Bulwark is a Defensive Skill that causes rocks to form around your character, automatically giving them a Barrier that absorbs up to 45% of your base Life in damage.
How Does Barrier Generation Work in Diablo 4?
This is the rate at which your Barrier will regenerate as you play and take damage. Some of the damage that enemies dish out will be absorbed by your Barrier, and as that number is decreased or depleted completely, then the Barrier Generation is how quickly your Barrier will come back.
So, the higher your Barrier Generation stat is, the quicker your Barrier will regenerate after it has taken damage from an enemy's attacks.
Equipment will come with its own base stat for Barrier Generation, and that stat will clue you in on how quickly or slowly, you will regenerate your shield. You can also find items like Diamond Gems to slot into sockets to boost their Barrier Generation further. It is a great way to passively keep your defenses up and make sure that your character can withstand enough damage in a fight.
Also, landing attacks like Lucky Hits will help you to boost your Barrier Generation and get your shield back faster. These are attacks whose frequency is determined by your equipment stats and more.
You can read this article and know how to use the Barrier Generation in Diablo 4. And you can also
Buy Diablo 4 Gold
to get powerful gears and items for characters in the game shop.