Final Fantasy XIV Game Guide: Players Should Know How to Swim Or Dive Underwater in FFXIV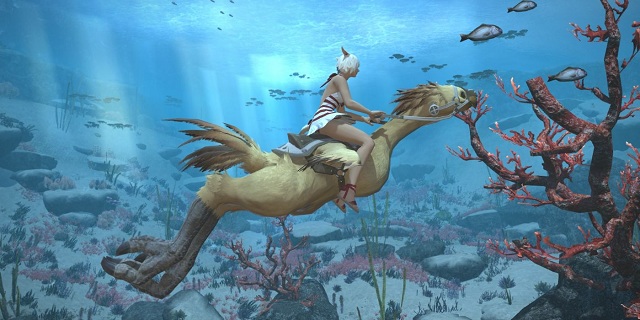 Due to the different expansion of FFXIV, players have more places to explore in the Final Fantasy XIV. Although some players have known the ability to dive underwater in the game, they may not know how to dive in the deep water. There are some ways for you to know how to dive underwater in the game. Meanwhile, players can buy
FFXIV Gil
to select the best skins for your character in the game.
Players should note that they will only be able to dive and swim underwater in Stormblood and Shadowbringers. Trial players only have access to the game's first two chapters, meaning they will need to own Stormblood to explore its underwater areas. Unlike flying, players cannot venture into the aquatic depths of previous regions in A Realm Reborn or Heavensward. However, Mounts in Final Fantasy XIV can also dive and swim underwater.

How to Unlock Diving Skill in FFXIV
In Soroban We Trust is the name of the quest that rewards you with the ability to dive, and it is a Level 63 story quest located in Tamamizu, in The Ruby Sea area. It's a simple quest that simply involves speaking with Alisaie and then speaking with Lyse. In addition to the ability to dive, you will receive the Water Flip emote, which can only be used underwater. You will also receive your choice of optional reward — the options include Level 62 weapons for Gunbreakers and Dancers, and some Savage Might materia.
Once you learn how to dive, you may want to start the nearby quest A New Fishing Ex-spear-ience, which will reward you with the ability to go Spearfishing. Note, however, that your Fisher level must be 61 or over in order to equip a Spearfishing Gig. This is another quick quest that simply involves speaking to a Kojin.
How to Dive Underwater in FFXIV
In order to dive, you must be swimming in a body of water that is deep enough, such as the ocean of The Ruby Sea or the massive lake in the Azim Steppe. You cannot dive in any areas released before Stormblood. While swimming, you simply need to press whichever button you have set to descending as if you were riding on a flying mount.
Now you can explore under the sea by either walking out of one of the portals in the underwater towns or by using the Flying/Diving - Descend key (Default: Ctrl + Spacebar). On PS4 / PS5, it is the O button. If you happen to be flying, you can even dive straight into the water if you hit it at a certain angle.
There is no breath meter, so feel free to swim around and explore the depths for as long as you like. Additionally, when you learn how to dive, all of your flying mounts gain the ability to swim underwater as well. You could even throw all logic out the window and ride your Flying Cumulus cloud underwater.
Armed with the necessary and sometimes critical information to dive, players can fully explore the land, skies, and seas of Eorzea. Be it a matter of exploring and progressing through the underwater-heavy sections of the Stormblood expansion, or simply moving through the many sidequests, popping down for a dip has never been easier.
If players expect to have a good experience in Final Fantasy XIV, they need to
Buy Final Fantasy XIV Gil
to select powerful weapons or gear for their character, which help them fighting against bosses in the game. You can find cheap prices about Final Fantasy XIV Gil on 5mmo.com.