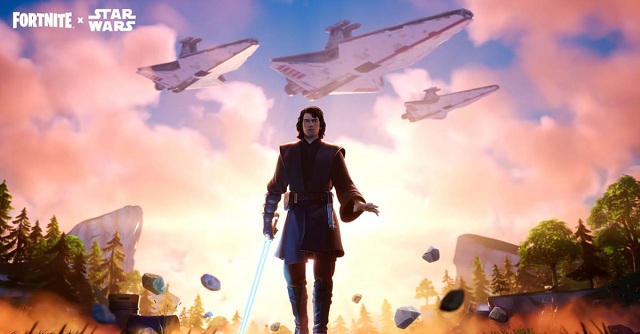 As the update of Fortnite and Star Wars Crossover event, there are new Star Wars contents added in Fortnite. Many players are interested in the Star Wars weapons in the event. And they want to know where to find them and complete relevant quests in Fortnite. Players can use
Cheap Fortnite V-BUCKS
to unlock the latest battle pass for good rewards in the game.
Available Star Wars Weapons in Fortnite
At the moment, there are four Star Wars weapons in Fortnite, and in order to obtain them, gamers will have to go out of their way to find them. These are Mythic weapons and they're quite powerful, so it might just be worth the effort. These are all the Star Wars weapons in Fortnite:
Green Jedi Padawan Lightsaber
Blue Jedi Padawan Lightsaber
Sith Apprentice Lightsaber
DC-15 Blaster
Star Wars Weapons Location
Star Wars fans and Fortnite players have reason to celebrate the recent addition of Star Wars weapons to the game. These weapons, inspired by the iconic franchise, offer a new level of excitement and strategy to the popular battle royale game. But where exactly can players find these Star Wars weapons in Fortnite? According to reports, the weapons can be found in three different locations on the map.
The first location is on the road west of Slappy Shores. This is a popular landing spot for players who are looking to get their hands on the new weapons. Be warned, though, as this location is likely to be heavily contested, so players should come prepared for a fight. The second location is on the road southwest of Frenzy Fields. This location is a bit further from the center of the map, so players who land here may have a bit more time to gather their bearings before encountering any enemies.
Where to Find Star Wars Weapons in Fortnite
DC-15 Blaster
The DC-15 Blaster can be found in Republic Chests. You can also find it in floor loot, or in regular chests, but they are far less likely to spawn this way due to the increased loot pool. As they're classified as Mythic, be on the lookout for items with a yellow glow.
Here's where you can find Republic chests:
On the road west of Slappy Shores
On the road southwest of Frenzy Fields
On the road north of Shattered Slabs
Lightsabers
Lightsabers are also available for players wanting a more elegant Star Wars weapon. Unlike previous Fortnite x Star Wars events and Rey, players can't waltz into an area, pick up a lightsaber, and start swinging it around. Instead, you'll need to seek a hologram of Obi-Wan Kenobi, Anakin Skywalker, or Darth Maul and train in the ways of the force.
These holograms can be found randomly throughout the Island and are marked on the map with a lightsaber icon when available. Interacting with a Hologram will cause your character to enter and return from a Rift, lightsaber in hand and entirely force trained.
Anakin provides players with a blue lightsaber and the Force Pull ability, while Obi-Wan hands over a green lightsaber with the Force Push ability. Those more attuned to the dark side will receive a red lightsaber and Force Throw ability, which we've found to be the most powerful of the three.
Players should pay attention to the locations of Star Wars weapons in Fortnite. You can get these weapons in the process of completing other quests. Players can
Buy Fortnite V-BUCKS
to unlock the latest Star Wars Skins or items for characters in the game.