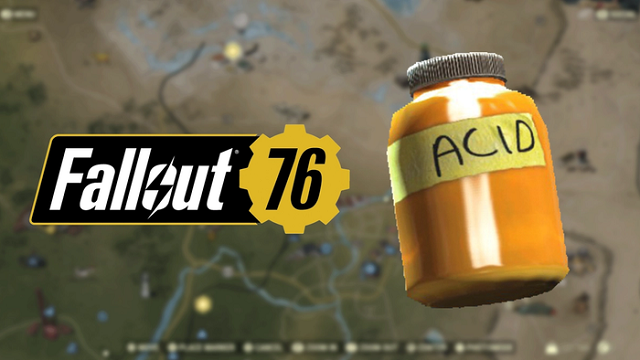 When players play Fallout 76, they may meet different kinds of materials in the game. If you want to smelt Ores , you will need the Acid. Some players are wondering where to farm acid in the game. You can read this article and know the exact locations of Acid in Fallout 76. Players can use
Cheap Fallout 76 Bottle Caps
to unlock powerful weapons or rare items for characters in the game.
Acid is a very important utility resource. If you want to make the best ammo and weapons, you will need a high amount of acid so you can break down your other resources to create the items you need. When it comes to farming acid though, it might not be so obvious where it is obtained in Fallout 76.
How to Farm Acid in Fallout 76
To farm Acid players have a few options. They can place mineral extractors over the veins in Hemlock Holes, collect and scrap junk materials that contain Acid, kill Glowing enemies in Blast Zones, or initiate "A Colossal Problem" Event for a chance to fight off herds of Glowing enemies.
Extract Acid Veins
The following workshops in Fallout 76 contain Acid veins:
Hemlock Holes Maintenance
Federal Disposal Field HZ-21
Southwest of Hopewell Cave
Abandoned Bog Town
Monongah Power Plant
Relay tower LW-B1-22
By excavating these locations, players can earn up to 10 Acid per mineral extractor every 20 minutes. (Note that workshops require a quick defense mission and up to 25 Caps to unlock.)
To farm Acid in Fallout 76, you'll need to collect scrap. You can find scrap in many places, but the best place to look is at workshops and events. Look for rusty barrels and containers when you're at a workshop or event. These will usually have Acid in them.
Once you've collected enough scrap, you can head to an acid farm. To find an acid farm, open your map and look for the "Farming" icon.
Once you've found an acid farm, approach it and press the "Collect" button. This will allow you to collect the Acid from the Farm. Acid can be a valuable resource in Fallout 76, so make sure to take advantage of it!
Kill Creatures
The fastest farming method comes from defeating the monsters mentioned above. Here's where you can find them:
Cave Crickets – Some of the best locations to look for those include Tanagra Town, where it is in the Mire on the far eastern side of your map. Just head south from your spawn area and move forward until you see a cave that houses some crickets which can give you acid.
Grafton Monster – You can find Grafton Monsters in the Hornwright Industrial Headquarters and Charleston Capitol Building. Most of the monsters you can find in both areas are inside the buildings or structures, so having an organized way of searching is advisable.
Snallygasters – These monsters can be found in Toxic Larry's Meat 'n Go and Charleston. Most of the time, they are already present in the spawn areas of both locations. So, it is best to be ready once you land your feet on those as the farming will begin immediately.
Yao Guai – Yao Guai is one of the most notable monster types that you can encounter in Fallout 76. You can look for these in Miner's Monument, Monongah Overlook, Mountainside Bed and Breakfast, Phillipi Battlefield Cemetery, and Dolly Sods Wilderness. Going to these locations can give you the highest chances of farming acid.
Players can follow the guidance to collect Acid in Fallout 76, which are useful in the process of crafting items. And you can also
Buy Fallout 76 Bottle Caps
to purchase necessary items and craft best gears for character in the game.