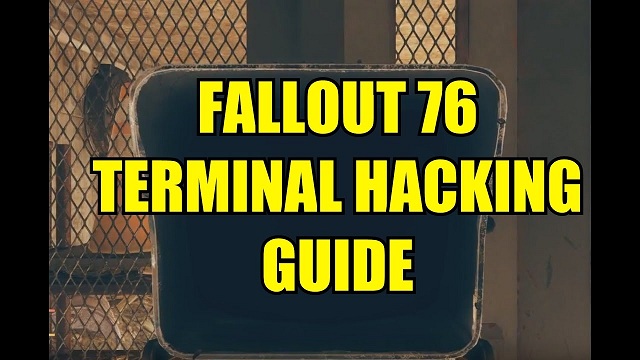 In the large world of Fallout 76, there are different kinds of activities waiting for players to explore. And players can also obtain good rewards or items. When it comes to terminals in Fallout 76, some players want to know how the hacking or decoding mechanics work in the game. You can read this article and know how to hack terminals in Fallout 76. Players can use
Cheap Fallout 76 Bottle Caps
to unlock best items for characters in the game shop.
What are Terminal Hacks in Fallout 76?
In Fallout 76, 'terminal hacking' is a lockpicking mechanic for obtaining blueprints, notes, and Power Armor plans. Terminals are categorized into three levels of lock complexity: Level 1, Level 2, and Level 3. The difficulty of the hack increases as the terminal level goes up, with Level 1 being the easiest and Level 3 being the most challenging.
To hack a terminal, players will need to pick the correct code word from a list of random terms. Each hacking session gives players four attempts before locking them out for a few seconds.
How to Hack Terminals in Fallout 76
Every locked computer terminal in Fallout 76 has a specific difficulty level, starting with level 0 and going up to level 3. Level 0 Terminals can constantly be hacked, regardless of your perk cards. However, any level terminal above zero will require that you have hacking perks.
There are three hacking perk cards that you can unlock in Fallout 76: Hacker, Expert Hacker, and Master Hacker. To hack a level 3 terminal, you must have all three cards to hack these computer terminals as they offer a +1 hacking ability to your character and stack on top of each other. Here is a pro tip I use when playing Fallout 76: keep all three Hacker perk cards unequipped until you come across a terminal that needs hacking, equip the cards, hack it, and then unequip the perk cards. There is no reason to keep the Hacker perk cards equipped unless needed.
Once you access a terminal, you will find a list of jumbled numbers, letters, words, and symbols. This mini-game requires you to find the correct password for the terminal through trial and error. However, only one of the words on the terminal screen is correct, and you must pick which one. If you pick the correct word, the terminal will unlock, and you will gain access to the terminal.
How to Increase Hacking Skill in Fallout 76
In order to hack level 1 terminals in Fallout 76, as previously mentioned, you'll need the Hacker perk. This falls under the Intelligence element of SPECIAL. However, you'll also come across plenty of level 2 and level 3 terminals.
The Hacker perk card, however, doesn't upgrade like the others in the game. Similar to lockpicking, you'll need to get the Expert Hacker and Master Hacker cards and equip them. These add an additional point to your skill, so you'll need to equip them all to unlock up to level 3 hacking.
To get these Hacker perk cards, however, you'll need to reach set levels. For Expert Hacker, you'll need to reach level 22, while the Master Hacker perk card unlocks at level 38. You won't be able to earn these from simply leveling up, or from a perk card pack until you've reached these level requirements.
If players want to hack terminals in Fallout 76, you can experiment the guidance in the game and level up your hacking skill quickly. And it is necessary for players to
Buy Fallout 76 Bottle Caps
to upgrade your gears or character in time, which help you defeat more enemies.