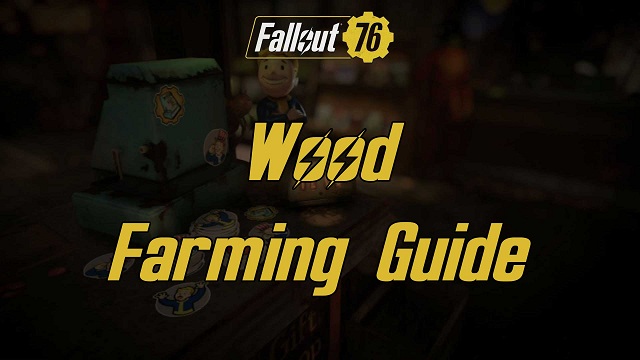 When you are playing Fallout 76, you need collect various kinds of materials for crafting or building in the game. Along with Copper, Wood is one of the most important materials in Fallout 76. In order to build strong structures, players have to collect a lot of Wood. Do you know how to farm more Wood in Fallout 76? You can read this article for guidance. Players can buy
Fallout 76 Bottle Caps
to level up characters quickly and purchase necessary items in the game.
How to Farm Wood in Fallout 76
Wood is one of the most important items in the game for building your camp, alongside crafting certain weapons and armors. Although it's quite common to come across items with wood in them, there is actually a better way to farm wood that acquiring and breaking down specific items.
Gathering wood is very simple in Fallout 76 and doesn't have a cumbersome process like other RPG games. While exploring, you may come across a wood log. So, all you need to do is approach it and press the "Gather" button to collect a few pieces of them. There are quite a lot of logs scattered around the map so you don't have to worry about running out of wood anytime soon.
There are other ways that you can easily farm for wood in the game. You can get them from the random junk scattered around the town. Items made out of wood can also be broken down to acquire wood from it if you're out of options. The everyday items that fetch wood consist of Broom, Acoustic Guitar, Cigar Box, Drumstick, Fishing Rod, Pencil, Wooden Blocks, etc and more. The only disadvantage of this is that you can get wood in a limited amount and might not be enough for your crafting purposes. Don't be disappointed as there are locations in the world of Fallout 76 that can yield plenty of wood.
Best Wood Locations in Fallout 76
Sylvie and Sons Logging Camp
Sylvie and Sons Logging Camp is in the northern part of the Savage Divide. Hopewell Cave is to the north, and the Son's of Dane Compound is to the west.
This camp consists of a couple of large tents and a whole lot of wood. The main tent has wood piles lining the sides of it and several small woodpiles on the interior. Near the exterior of the main canopy is a small pick-up truck. You'll find several woodpiles in its bed.
In total, you should find thirty-six woodpiles and another four log piles near the camp. There will undoubtedly be more if you branch out a little further. That will yield over four hundred wood scrap if you're using Woodchucker.
If you are looking for a fast efficient way to farm wood in Fallout 76, finding woodpiles is the way to go. The best locations to farm wood are Prickett's Fort, Helvetia, Sylvie and Sons Logging Camp. These three locations are filled to the brim with wood piles that makes gathering wood so easy. If you visit all three of these locations, you are almost guaranteed to have enough wood for whatever project you need. And the best part is that it is super fast to gather wood as well because there are no special tools needed.
One thing that we do recommend though if you are gathering wood from these locations is that you use the Woodchucker perk. The Woodchucker perk allows players to gather twice as much wood as they normally would. This is a great perk for wood farming. If you use the Woodchucker perk while visiting the three locations mentioned above, players should gather around 1000 wood scraps in less than 10 minutes.
Players who want to farm more Wood in Fallout 76 can follow the guidance and find the exact locations in the game, then you can farm enough wood for building structures or crafting weapons. You can also
Buy Fallout 76 Bottle Caps
to upgrade weapons levels, which help you defeat more enemies in the process of exploration.