World of Warcraft Dragonflight Guide: How to Farm Elemental Overflow in Dragonflight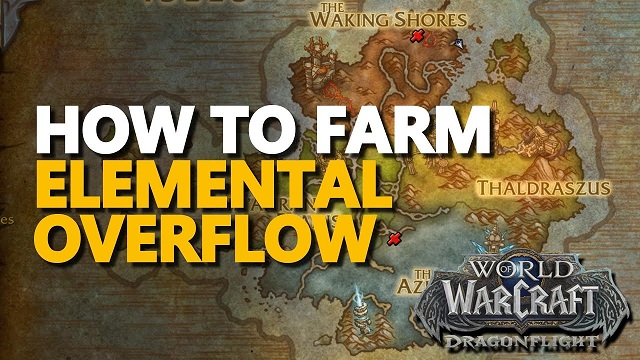 In the latest WoW Dragonflight patch 10.0.7, there are some additions introduced in the Dragonflight expansion. One of these additions is Elemental Overflow, which can be used to purchase Forbidden Reach items in the game. Some players are willing to know how to farm them in Dragonflight. You can read this article for guidance. Players can get
Cheap WoW Dragonflight Gold
to purchase good gears for characters in the game shop.
What's the Elemental Overflow in WoW Dragonflight?
Elemental Overflow is a new currency in Dragonflight expansion. It is very useful as it can help you buy some valuable items in WoW Dragonflight. This currency can be obtained from Primalist Invasion mobs. These invasions contain groups of specific enemy types like Fire, Water, Air and Earth. Upon defeating these Primalist NPC's, you will be rewarded with Elemental Overflow.
Keep in mind that these Primalist mobs spawn every six hours as they invade different zones in Dragon Isles. Once you clear a specific area you will have to come back later to get more currency. As always, stronger Primalists will guarantee you more Elemental Overflow, however, they'll be harder to beat. Farming Elemental Overflow is relatively easy as every Primalist NPC drops a decent amount of the currency.
How to Farm Elemental Overflow in WoW Dragonflight
In the latest area, the Forbidden Reach, you can farm for Elemental Overflow by participating in events, completing Daily and World Quests in the Forbidden Reach, and killing mobs. And different mobs offer different drop rates.
The drop rates for Elemental Overflow in the Forbidden Reach include:
Normal mobs: You can earn between 1-10 Elemental Overflow
Elite mobs and small Treasure Chests: You can earn between 30-60 Elemental Overflow
Forbidden Hoard chests: You can earn between 400-700 Elemental Overflow. These chests spawn roughly every 30 minutes.
Forbidden Reach Daily and World Quests: You can earn 450 Elemental Overflow
Elite rares: You can earn between 900-1200 Elemental Overflow. This resets daily.
Mega Primal Storm events: You can earn between 1200-1500 Elemental Overflow during this event, which happens every couple of hours.
By killing mobs, participating in events, completing quests, and finding Hoard chests, you can build up your stock of Elemental Overflow in Patch 10.0.7 in no time.
Forbidden Hoard chests spawn every 30 minutes in the Forbidden Reach and they contain a lot of useful items. You can get Primalist gear, scrolls, Zsekra Vault Keys, quest items, and most importantly, Elemental Overflow.
Finding a Forbidden Hoard chest can be tricky, as there are 16 known locations at the time of writing and they're incredibly popular items. You will have to contend with other people to get these chests.
The spawn points vary across the map, but there are some specific ones that I'd recommend checking out.
There are some Forbidden Hoard chests on small islands around the Forbidden Reach (specifically North and Northeast, and Southeast islands) and in caves along the coastline. There's a spawn point to the East of Caldera of the Menders, too.
You can come to this part of the map that can be found inside Ohn`ahran Plains in Dragon Isles inside the Azure Span. You can use the Elemental Storm to get to the other side of things and then inside this highlighted zone is where you are able to farm the Elemental Overflow.
Whenever you come here you will come across a lot of friendly players that will take on the many enemies. You can just follow them and just be clearing out all of the mobs that you will come across.
Players can follow the guidance and try to farm more Elemental Overflow in Dragonflight expansion. Enough Elemental Overflow can be used to purchase rare items for characters. Players can also
Buy WoW Dragonflight Gold
to level up their characters and join in the dungeon raids in the game.