WoW Dragonflight Tank Tier List: How to Choose Best Tank Class in Dragonflight Expansion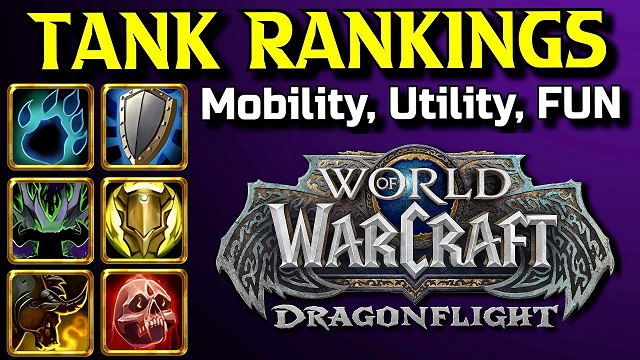 Many WoW fans are excited about the release of WoW Dragonflight expansion, and they have access to create new characters and explore the new scenes in the game. Some players are willing to become the tank role of the team, who can defend the attack from the enemies and protect the teammates in battle. We will list several best tank classes for players in this article, and you can consider create one of them in WoW Dragonflight. Players can use
Cheap WoW Classic Gold
to level up their tank classes quickly in order to join in more high level dungeon raids in the game.
Protection Warrior (S-Tier)
Protection Warrior is one of the best tank class in Dragonflight, and has absolutely phenomenal class tree ever since they came out, the only thing that's been happening is that it's been constantly getting nerfed, and even with the nerfs, it's still one of the best trees in the game. When you're going through this tree, you're taking something that you want for your spec pretty much and there's really great synergy between the class and spec tree with some of the bleeds and some of the way that stuff works.
Prot Warrior has hands down some of the best defenses for tanks, they have pretty much 100 up time on Shield Block and Ignore Pain, they have more healing in their kit than they ever have, and they've also got very good utility with low cooldown AOE and single Target stuns as well as Commanding Shout and they have one of the strongest tier sets among tanks, it's solid consistent damage and defensive boost and it doesn't really require you to change anything negatively to your rotation to get it, they're consistently strong damage in both single Target and AOE.
Vengeance Demon Hunter (S-Tier)
Vengeance Demon Hunter is another solid pick for the best tank going into Dragonflight. They have a lot of damage and a more structured rotation going into the new expansion, and they'll see less of Spirit Bomb and more of Void Reaver and Frailty. They have a lot of new offensive and defensive capabilities in Dragonflight. Despite losing significant uptime on Metamorphosis, they have abilities such as Fiery Brand and Soul Cleave.
While some players are concerned because it means they'll be using a lot less of Spirit Bomb, there are new abilities on the horizon that still allow them to have incredible ferocity by using Fiery Brand and Fiery Demise. It's a good time to be a Vengeance Demon Hunter in World of Warcraft.
Blood Death Knights (A-Tier)
Blood Death Knights are the best tank in the game when it comes to dealing with huge bursts of magic damage, as will be the case on Raszageth, the final boss in Vault of the Incarnates. Blood DKs are definitely on the upper end of defensive power overall, but their main weakness is damage. Blood DKs are still the lowest damage output out of any tank. Finally, while they bring a solid raid cooldown, Blood does not bring any required buff, which lowers its value as a tank slightly.
Guardian Druids (A-Tier)
Guardian Druids have had a bit of a setback from the talent system revamp that came in the Dragonflight. There are fewer tools available in some areas and that will hurt their performance. The Guardian Druid is still a great AoE tank and thrives in those environments, but lacks in the single-target atmosphere. The consensus by players is mixed on the Guardian Druid, they just don't add up to the same level as the others.
If you are looking for the best tank class in WoW Dragonflight, you can consider these mentioned tanks in this article. You can create the suitable tank class according to the role of team. In addition, you can
Buy WoW Classic Gold
to get good equipment for tank in order to improve their health and allow them to defend more attack from the bosses in the dungeon raids.