WoW Dragonflight Community Feast Events Guide: How to Join in the Community Feasts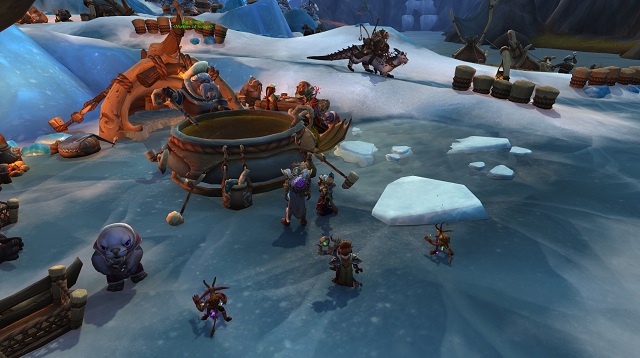 Many players are happy to see the new events introduced into WoW Dragonflight. The Community Feast Events are popular among WoW fans. They are willing to know how to join in the Community Feasts and obtain good rewards from completing quests. You can read this article and know more guidance about the Community Feasts. Players can get
Cheap WoW Classic Gold
to gather rare materials for crafting good items in the game.
What are Community Feast Quests in WoW Dragonflight
As you gain Renown with each faction found on the Dragon Isles, you'll be treated to a new thematic Community Event that ties in with that faction's story.
These events are on such a large scale that they often require cooperation with your fellow players, whether that be through the Group Finder or naturally in the world. You'll be able to more easily progress through any given scenario the more players you have on your side.
Each of the instances only provides the best rewards once a week, and as such, you won't be expected to log in every day to grind them out. However, they do provide some returns, and a great amount of Renown, rewarding those that want to complete them more often.
How to Join in the Community Feast in WoW Dragonflight
The main benefit of the feast is that it provides a relatively easy and simple way to farm reputation with the Iskaara Tuskaar. Reputation has always been difficult to increase in WoW, with faction quests eventually running out which slows reputation gain to a crawl. The Community feast provides a solution to this problem, and can let players max out their reputation relatively quickly.
The only catch to this is that to even be allowed entry into the event players will need to have reached Renown 3 with the Iskaara Tuskaar. There are enough quests in Iskaara that can give reputation to make this achievable, but it can still be a bit of a pain. The biggest hurdle will be getting the 2500 reputation necessary to reach the first Renown level and unlock the new quests from the Tuskaar village. Player's best bets are to progress through Dragonflight's main story and garner a reputation that way, and they should eventually hit the required level. The upside to all this work is that once the feast has been unlocked, it will be unlocked for all characters on a player's account regardless of level or reputation.
The event takes place in Iskaara in the Azure Span, and you just need to talk to Chef Big Nook in the village when the event is taking place. When it begins, Chef Big Nook will have tasks for you to complete to improve the flavor of his soup.
Each of these tasks rewards you with 25 Iskaar Reputation, so it's worth doing as many of these as possible. However, you'll also want to pick up the weekly quest next to the soup. Pleeqi has a quest called "Community Feast," which tasks you with completing five of the Community Feast tasks. It doesn't matter which, just do five of them.
For each completed task during the Community Feast, you'll get 25 reputation with the Iskarra Tuskarr tribe. When you complete the weekly Community Feast quest, you'll get a 500 reputation with the tribe and Supply-Laden Soup Pot. In the Supply-Laden Soup Pot, you can find one to three Dragon Isles Artifacts and Sacred Tuskarr Totems, a piece of gear scaling with your item level, one to three Primal Chaos, one Passin Renascence, cooking reagents, and Recipe: Gral's Reverence.
If players want to join in the Community Feast in WoW Dragonflight, you can follow the guidance and complete these quests for rewards. And you can also
Buy WoW Classic Gold
to upgrade gears or weapons in the game, which are good for you to defeat more enemies in the raids.