World of Warcraft Dragonflight Leveling Guide: How to Level up Fast to Level 70 in Dragonflight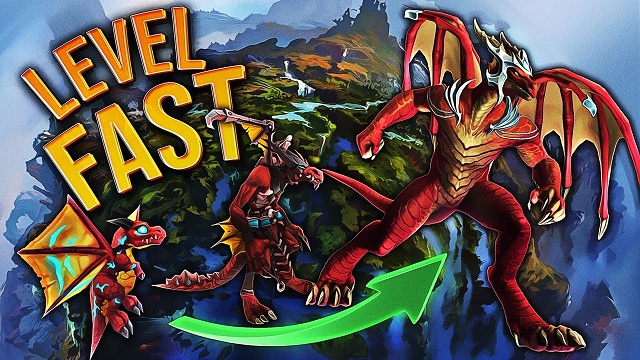 World of Warcraft Dragonflight expansion is live now. A lot of players rush into the new world of Dragon Isles and experience all new contents in the game. While, if players want to explore more end-game contents in Dragonflight expansion, they have to level up their characters quickly. Do you want to know how to level up your character quickly in the WoW Dragonflight? You can read this article and find the effective way to complete it. Players can use
Cheap WoW Classic Gold
to get good gear or items for characters in order to complete more difficult quests in WoW Dragonflight.
How to Level Up Fast to Level 70 in WoW Dragonflight
You need save more time instead of reading the quests or watching the scenes
To complete more quests for XP boost, you're going to start by not reading any quest text and ideally, not watching any cut scenes. Most speedrunners get those out of the way while testing on beta or catch up with the lore later on alts. Mods like QuickQuest can help you with that, automatically accepting new quests and dropping off completed ones when you click on NPCs.
You need find more leveling items and enchants
If you are in a guild grab a guild cloak from your vendor in Orgrimmar or Stormwind which will allow you to set your hearthstone wherever you want in the Dragon Isles. Also, get a guild banner that helps you stack extra XP when killing monsters in a specific area for a long time.
In addition, Consume Fried Bonefish, which is the Shadowlands expansion version of Bear Tartare. It gives your character a 282-speed rating boost (about 20% at level 60) after you kill a monster that gives experience.
You can unlock the heirloom gear for your character
Heirlooms are awesome items that will scale as your character levels up. So you'll want to go into your main character unlock the heirloom gear and you'll want to upgrade that to be you know up to level 60. We recommend picking the Heirloom items that have the highest amount of Haste possible. Haste speeds up the spec in almost every way, allowing you to quickly breeze through your rotation, and move on to the next mob more quickly.
Players noticed they were able to level up below level 60 much faster than before. After comparing the experience required to gain each level, players found the amount was dramatically reduced, with some levels requiring more than four times less XP.
Though levels 60 and below all had their experience totals reduced, the most dramatic reduction occurred between levels 50 and 60. The experience requirement for each level below 50 was also reduced, but at less drastic levels. That said, with some levels having XP requirements reduced by as much as 40%, leveling will still be faster than it was before, even at lower levels. Though the 50% Winds of Wisdom experience buff is officially gone, players can still level faster than they could before with these new experience requirements.
Players should know that leveling up in WoW Dragonflight expansion is faster than before. If you have got the right way in the game, you will level up your character quickly and have access to explore the end-game contents early. In the process of leveling, you can
Buy WoW Classic Gold
to purchase something useful for accelerating the speed of leveling in the game. Leveling up to Level 70 is not a difficult quest for players to complete.