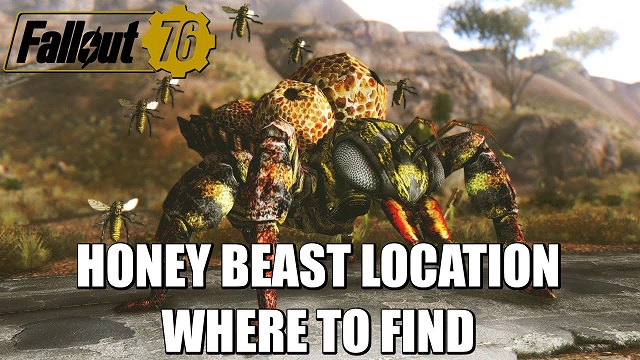 Fallout 76 is one of the most popular multiplayer survival games, which appeals a lot of players all over the world. There are various kinds of materials and enemies in the large world. Players can defeat enemies and loot the desired materials instead. One of the enemies is called Honey Beast. Do you want to know where to find their locations in Fallout 76? You can read this article for guidance. Players can use
Fallout 76 Bottle Caps
to level up the weapons or gears for characters, which help them defeat more fierce enemies.
What are Honey Beasts in Fallout 76?
Honey beasts are ordinary honey bees that have undergone severe mutations due to radiation. Normal-sized bees construct hives upon their backs and help defend the honey beast. They can typically be found in the Forest, the Mire and the Toxic Valley.
Honey beasts move slowly, and when engaging with hostiles, they will release bee swarms from the hives on their backs causing an easy distraction for the beast to make its attack. They attack slowly but powerfully and can cause immense damage if they manage to lock the player character into a stagger. Fire and cryogenic weapons do not inflict additional damage to the honey beast.
Where to Find Honey Beasts Locations in Fallout 76
You can typically find Honey Beasts in Appalachia's Forest, the Mire, and Toxic Valley regions.
There are the best Fallout 76 Honey Beast locations:
Freddy Fear's House of Scares: You can consistently find Honey Beast in the cave northeast of this location.
Middle Mountain Cabins: Three Honey Beasts will spawn at this location.
Seneca Rocks Visitor Center: Honey Beast have a chance to spawn inside of this location.
The Freak Show: You will find a dead Honey Beast at this location.
Whitespring Golf Club and Whitespring Resort: You can find Honey Beast between these two Whitespring locations in the garden.
You have a chance of encountering Honey Beasts during the following events:
A Real Blast: You will encounter Honey Beast at the Seneca Rocks Visitor Center during this event.
Dogwood Die Off: Up to two honey beasts can spawn at Graninger Farm during this event.
Irrational Fear: You will encounter Honey Beast at the Seneca Rocks Visitor Center during this event.
Project Paradise: During this event, you will encounter Honey Beast at the Seneca Rocks Visitor Center.
Scorched Earth: A Scorched variant of the Honey Beast can spawn during this event.
Honey Beast Weakness
Honey beasts are tough, but they're slow moving and that can be used to your advantage. While they are weak to both cryogenic and fire damage, you can focus on the mob's head to do additional damage. It'll take some time, but you shouldn't have too much trouble as long as you keep your distance.
Honey Beast Drops
All Honey Beasts, regardless of the variant, will have the following items as drops.
Stimpak
Honey
Honeycomb
Gold scrap
Excess adhesive
Royal jelly
If the glowing variant is encountered, it will also drop glowing blood, glowing meat and nuclear waste.
If players don't know the locations of Honey Beasts, you can remember these mentioned locations and events, then find them in the game. You will earn good drops by defeating various honey beasts. In addition, players can
Buy Fallout 76 Bottle Caps
to unlock best gears for improving characters in the game.