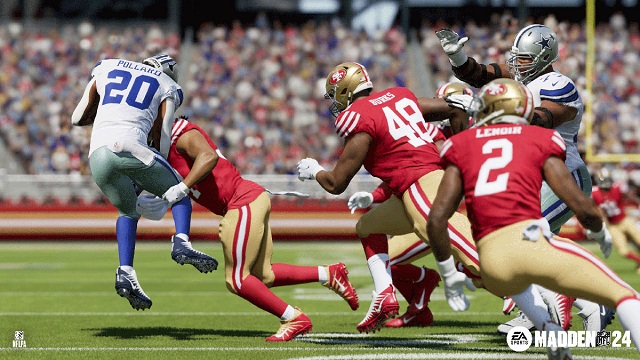 Many players have joined in the competitive football game: Madden NFL 24. They build teams and compete against opponent in the match. In order to build the best team, they need select best players for the team. Defensive Linebackers play an important role in the defense line of the team. So, do you know the best linebackers in Madden NFL 24? Players can use
Cheap MUT 24 Coins
to get your favorite players and build the best team in the game.
Best Linebackers in Madden NFL 24
Fred Warner (96 OVR)
The top-ranked Linebacker for Madden 24 is Fred Warner, who is sitting at a 96 Overall Rating. What makes him stand out from the others is his incredible focus on the gameplay with near-perfect recognition plays and an awareness score of 99. As a Middle Linebacker, Warner is a defensive tank that players must work around in order to even get a play in.
Maxx Crosby (94 OVR)
Every season, there's a team with lofty goals and aspirations, only to fall flat on their face. In 2022, one such team was the Las Vegas Raiders. The AFC West squad had all the makings to challenge the Kansas City Chiefs but finished with an abysmal six wins and third place in the division.
But a lone bright spot on the season was Maxx Crosby. The four-year pro took another step in his development and led the NFL in tackles for a loss of yards and recorded a career-high 12.5 sacks. While his speed (84) and power (80) aren't attributes to write home about, he's an alert linebacker who recognizes plays (95) early on and maintains high awareness (98).
T.J. Watt (94 OVR)
T.J. Watt is the type of linebacker that an offense has to center their game plan around just to slow him down. Watt stays in the backfield with his off-the-chart skillset. He rates 94 in Finesse Moves, 93 in Play Recognition, and 88 in Acceleration. Watt knows where the ball will be and makes sure he gets to that spot with an elite 96 Pursuit rating. He is on track to finish his career as one the best linebackers of all time. He won Defensive Player of the Year in 2021 and led the league in sacks in the 2020 and 2021 seasons.
Last year Watt suffered an injury in Week 1 and did not return until Week 10. Despite the setback and missed games Watt still recorded 39 tackles, two interceptions, and 5.5 sacks. He was selected to his fifth consecutive Pro Bowl and was also ranked as the 22nd-best player in the league.
Lavonte David (91 OVR)
Although David did not make the Pro Bowl or any of the All-Pro teams last season, the 11-year veteran has been a cornerstone player for the Buccaneers defense since they drafted him in 2012. And at 33-years-old, David still had himself a great season that is very fitting of a 91 overall rating. In 17 games played, David had 124 combined tackles, five passes defended, three sacks, and a forced fumble and fumble recovery. David continues to set the bar for himself, and after performing as well as he did, will be one of the best linebackers to use in Madden 24.
Demario Davis (90 OVR)
Over eleven years, Demario Davis has only missed one game. He's playing his best football now, making his first Pro Bowl in 2022 and setting career highs in interceptions and sacks. That's a scary prospect for those looking to pass or run around the veteran.
Davis has established himself on four different teams as a quality middle linebacker. The Saints are bringing him back in 2023 and hoping they can get their offense fixed. If they do, Davis is ready to do his part on the other side of the ball.
If your team is lack of Linebackers in Madden 24, you can consider these top players in the game. And you need
Buy Madden 24 Coins
to add them to your team, because the trade fees cost a lot of money.