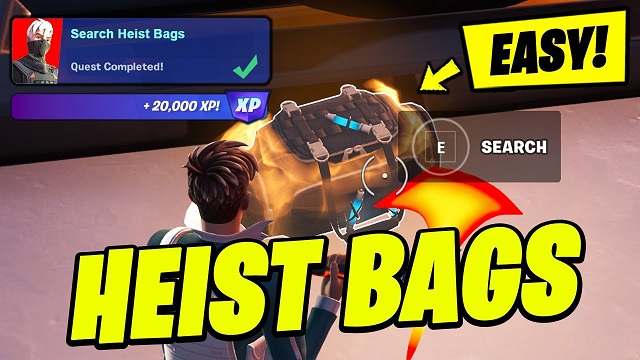 Fortnite Chapter 4 Season 4 is coming for players nowadays. There are a lot of new items and locations added in the game. Because this season is all about heists. You can find a lot of unique loots in the process of searching. One of these unique is Heist Bags. Do you want to know how to find Heist Bags in Fortnite Season 4? You can read this article and learn from the guidance. Players can use
Cheap Fortnite V-BUCKS
to unlock the latest skins or items for characters in the game shop.
What are Heist Bags in Fortnite?
In Fortnite's Chapter 4 Season 4, Heist Bags are stocked containers resembling duffle bags, which provide players with a variety of common, rare, or epic loot, such as the newly introduced Rocket Ram gun, ammunition, healing items, and more.
How to Find Heist Bags in Fortnite Chapter 4 Season 4
Heist Bags are lootable items that were added to Fortnite as part of the Last Resort season, and they're meant to help players prepare for their heists on the three Thorne Strongholds on the map: Relentless Retreat, Eclipse Estate, and Sanguine Suites. However, the Heist Bag can come in handy in other kinds of scenarios, as it contains tons of useful loot suitable for just about any situation.
Gamers can find tons of Heists Bags in the luxurious Throne Strongholds mentioned above, and they're often left on top of the mansions' couches and coffee tables. Even though Heists Bags are most commonly found at Relentless Retreat, Eclipse Estate, and Sanguine Suites, players will also find three Heist Bags at The Getaway landmark, the barn in Frenzy Fields. This is where Nolan Chance and Antonia, two Chapter 4 Season 4 Battle Pass characters, are hiding out in preparation for their next heist.
These bags come in handy when you're landing on a hot spot with multiple opponents swarming the area, as they provide you with powerful weapons to defend yourself in a sweaty situation. So, the next time you decide to hot-drop to one of the new POIs, keep an eye out for these containers to gain the upper hand on your opponent and secure the Victory Royale.
How to Use the Heist Bags in Fortnite
The bags contain very high-end equipment in the game and may prove to be the difference in the game by making it easier for the players to cut past the walls and gates of strongholds, thus allowing players with better equipment for the rest of the battle royale. Though some of the heist bags might contain some normal weapons in the game, they would also have high-end equipment like Business Turret, the Rocket Ram, Remote Explosives, Crash Pads, silenced weapons, ammo, and other high-end healing items.
Hence it's safe to say that these heist bags could prove to be the point of difference in the game, and give the players that extra competitive edge in the game needed to land the victory royale. Not to mention the importance of these bags in helping the players get inside the strongholds for their heists.
Players can follow the guidance to find more Heist Bags in Fortnite, which provide you with good weapons and supply items. In addition, players can
Buy Fortnite V-BUCKS
to unlock the latest Battle Pass for good quest rewards in Season 4.