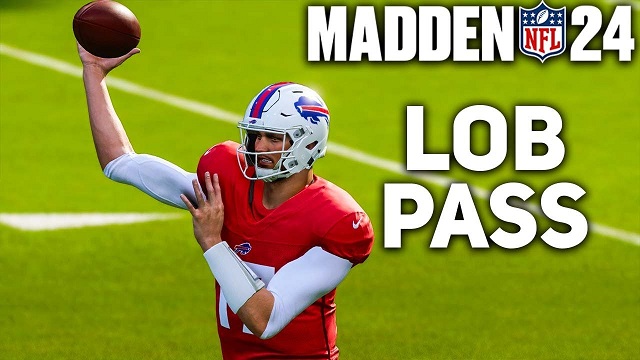 When players are playing matches in Madden NFL 24, they need know the importance of pass in the process of attack. While, there are different types of passes in the game. You had better know the Lob pass at first. Some players are willing to know how to throw a Lob pass in Madden 24, which will help them make good progress in attack. Players can use
Cheap MUT 24 Coins
to build the best team in Madden 24 Ultimate Team mode.
How to Throw a Lob Pass in Madden NFL 24?
If you read the in-game description for Lob Passes, it asks you to tap the receiver button, so that your QB throws a Lob Pass to the target player. The common mistake here is that some players start tapping the button multiple times until the pass is sent, and that's why you can send it correctly.
Sending a Lob Pass only requires you to tap the receiver's button once, and there is always the difference between pressing and tapping. A tap means you need to push the button and then leave it as quickly as possible. It's not an exact timing, but based on personal experience, we can tell you that it shouldn't exceed one second. If you are quick enough, you can usually perform at least 2 or 3 taps within a second, and here, you only need one tap.
How to Use a Lob Pass in Madden NFL 24
The lob pass can be risky. However, it can lead to a big gain or touchdown if you hit your receiver in stride. It's integral to any QB's repertoire. And, though it's not always successful, it can stretch the defense and force defensive coordinators to rethink their game plans.
Usually, a lob pass is used to get over all the defenders.
It gives any target the chance to gain significant yards after catch (YAC).
It also has the opportunity to put the ball out of reach of the defender.
Since it's slower than a bullet pass, it can leave you open to a sack or INT.
These throws are great for deep routes, such as a hail mary, streak, or deep corner. As your receiver runs up-field, you can hit them in stride. The lob pass is also a great choice for getting over the defensive line and any encroaching linebackers. It can put your receiver ahead of a defensive back (DB) or even lead them away from a cornerback (CB). Finally, it can also get over the hands of blitzers and linemen.
Lobs can be tricky to pull off — and not just because of timing. The input is similar to that of a touch pass, and I've found myself throwing that instead of a lob several times. If you're having issues with the timing or feeling, I suggest heading over to the Training Camp mode and using the Skills Trainer challenges to get things down.
When to Throw a Lob Pass in Madden NFL 24
Lob Passes can be dangerous as it gives the defense more time to react and get to the ball leading to more interceptions. However, Lob passes are effective when thrown into space. For any long downfield pass, the Lob pass is the most effective as it will float the ball behind any covering defenders.
Combining this with a lighting fast Wide Receiver can lead to many easy touchdowns with long plays regardless of what mode is played, from Ultimate Team to a Fantasy Draft in Madden 24. The Lob Pass is a vital weapon in your arsenal and can make a big difference on the field when looking to score points on the board.
Players who want to learn how to throw a Lob Pass in Madden NFL 24 can experiment the guidance in the training matches. And we hope that you can make good performance with this skill in real matches. You can also
Buy Madden NFL 24 Coins
to get the latest powerful players from the transfer market.