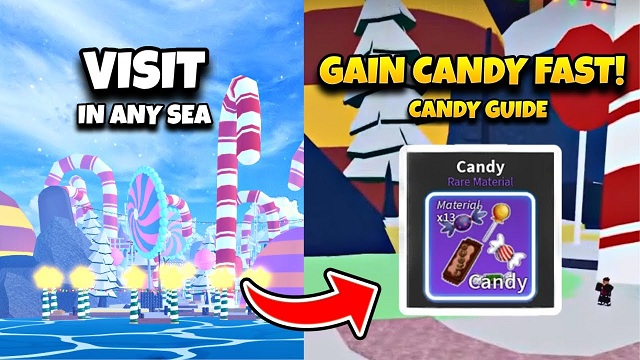 Roblox blox fruits is one of the most popular games in Roblox, which attracts a lot of players. This game is based on the famous anime called One Piece. Many players build their characters and level them up to explore the large world in Blox Fruits. While, if players want to get different items in the game, they can farm candies to exchange them. Do you want to know how to farm more candies in Blox Fruits? You can read this article for the guidance. Players can get
Cheap Roblox Robux
to unlock more good items for their characters in Roblox Blox Fruits game.
How to Farm More Candies in Blox Fruits
Getting candies in Blox Fruits is actually a pretty easy process. Candies can be found by defeating NPCs that are no more than 100 levels below the character's level. So assuming that you're fighting enemies that around your level, you should be able to get candies.
To get candy in Blox Fruits, you just need to kill any enemy NPC that is within 100 levels of your character. That means you can't really farm super low level enemies, but you can find some mobs that are fairly easy for you to kill to get them.
If you haven't gotten any candy yet, you should just keep trying to kill the mobs. The drop is fairly rare, so it might seem like they don't really exist from certain enemies. However, this is likely just due to bad luck. It also could possibly be that the enemy you are killing is too low level! Make sure they are within 100 levels of your character or they won't drop the candies.
In other words if you are at level 500, then the NPC should not be at 380 or 400. Either they should same as you or higher. However the chances of Candy drop via NPCs are pretty challenging. So we recommend you to put your best bet on slaying the Bosses you find across the seas. That's because they have a 100% guaranteed drop rate of candies. But until you find a Boss to defeat you can always grind killing the NPCs.
On one of the seasonal islands in each sea, Candy will enable you to purchase one-time-only things from Santa Claws. There are also the following restrictions:
Elf Hat – 250 Candies
Santa Hat – 500 Candies
Sleigh – 1,000 Candies
You can also use candies at the Magic Elf or the Greedy Elf to purchase buffs or fragments.
How to Use Candies in Blox Fruits
You can trade candies in the First, Second,and Third Sea. Santa Claws gives Elf Hat, the Santa Hat, and the Sleigh in-exchange for candies. The Magic Elf offers 15 minutes of double experience (2x EXP), Stat Refunds, and Race Rerolls. You can also get Fragments for trading candies with the Greedy Elf. Finally, the Blox Fruit Dealer's Cousin will trade random fruits for candies.
Players can try to find more suitable enemies or bosses to kill for candies in Blox Fruits. You need equip good weapons or gears with your characters in order to beat powerful bosses. In addition, players can
Buy Roblox Robux
to select the right items for characters in Blox Fruits shop. There are many different kinds of items for sale in the shop.