Roblox Arcane Odyssey Weapon Guide: How to Get the Lance of Loyalty in Arcane Odyssey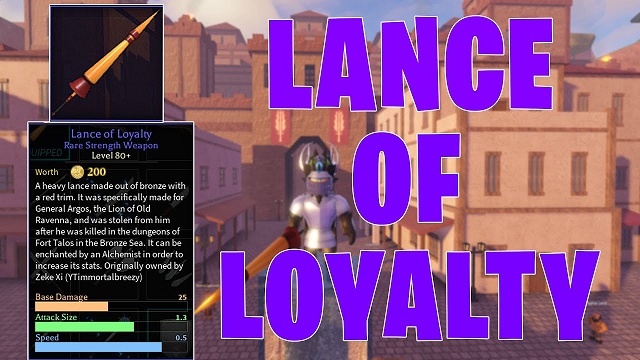 More and more players have joined in the adventure in Roblox Arcane Odyssey. They can explore various areas and defeat enemies for rewards in the game. And there are also different kinds of weapons and items waiting for players to explore in Arcane Odyssey. One of the most powerful weapons is the Lance of Loyalty. They want to know how to get this weapon in Roblox Arcane Odyssey. Players can use
Cheap Roblox Robux
to unlock desirable items for characters in the game.
How to Get the Lance of Loyalty in Arcane Odyssey
In order to get the Lance of Loyalty in Roblox Arcane Odyssey, you will need to overcome a difficult challenge. The weapon is located in Fort Talos and you will need to defeat the lance's wielder. His name is General Argos and he is one of the most powerful bosses in this game.
General Argos can be found in the dungeon of Fort Talos and he is able to use the Lance of Loyalty and the Lion's Halber. The fight consists of three different phases and in each of them the boss will be deadly. Also, the Lance of Loyalty has a low drop chance and you will likely have to grind this boss.
The Lance of Loyalty is one of the few strength-based weapons in the game. These types of weapons require you to be a Warlord build. The player who wants to use this weapon will have to invest in the strength and weapons skill tree. If you already have 40% in Weapons and Strength then follow these steps to get the Lance of Loyalty.
Use your ship and make your way to the island of Fort Talos north-east to the Sailor's Lodge
Avoid the Fort's cannons by sailing to the small island next to it.
Walk around the island to the small cave on its side, you should find the secret entrance to the fort.
Make your way through the Fort, you can avoid the guards on the way.
Walk through the double doors. That's where you'll find the boss General Argos.
This is going to be a tough fight so go in prepared.
Once you kill him, there is a 14% chance of him dropping the Lance of Loyalty. He can also drop the Lion's Halberd, another rare weapon. The Lance of Loyalty is a great weapon to have in your inventory thanks to its special Shining Cycle attack. There are also 3 other skills that will be added to the weapon in future updates so it's best that you get the weapon as soon as you can.
If players are eager to get the Lance of Royalty in Roblox Arcane Odyssey, you can follow the guidance and complete the related quests. And you also need be patient about the drop rate of this weapon. You may try to repeat completing the same quest in the game. Players can
Buy Roblox Robux
to unlock other necessary items for characters in Roblox Arcane Odyssey.