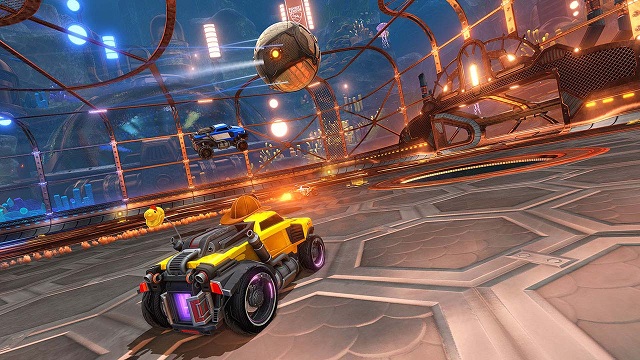 Rocket League is always one of the most popular multiplayer games on the internet. Many players are willing to join in the matches and compete with other opponents for victory in the game. 2V2 game mode is one of the most difficulty modes in Rocket League, players are wondering how to play well in this mode. If you are also confused about it, you can read this article and learn from the guidance. Players can get
Cheap Rocket League Credits
to level up your cars and control them to score more goals in the competitive matches.
How to Play Well in 2v2 Game Mode in Rocket League
Learn to Communicate with your Teammate in 2v2 Game Mode
As 2v2s in Rocket League only consist of teams of two people, communicating with each other during the game is an absolute necessity. Without communication, it can be very hard for players to read exactly what their teammate is doing, which can lead to all kinds of problems from missed shots to nets being left wide open.
It's also important to note that communication doesn't mean that players should plug in a microphone and get chummy with every player that they meet. If they are not comfortable doing this, then players can just rely on the quick chat functions as these can be incredibly useful for simply guiding the flow of the game. Furthermore, communicating with teammates can also be a great way to build rapport within the team, which will prevent teammates from leaving or becoming toxic during the game.
Take Advantage of Boost Wisely in the Matches
Boosting is an essential part of any Rocket League strategy. Letting you store up to 100 boost units, players demolish an opponent's car, take aerial shots, or simply move across the field at pace. Unfortunately, this gets quickly consumed and while each stadium has no end of boost pads, I'd recommend saving them until an appropriate time.
Once you've hit maximum speed, further boosts are unnecessary and while it's a sensible plan to keep your tank replenished, you don't necessarily need to go out of your way collecting them. You'll find smaller ones littered around an arena which restore 12 units, alongside 6 larger orbs that restore 100 units, though these take much longer to respawn. Remember that your teammates need a boost too, they'll (maybe) thank you later.
Adjust the Ball Cam
By default Rocket League has you driving about in third-person, with the camera hovering above your car, facing forward. That's fine, but it can sometimes be a detriment. Ball Cam allows you to fix your camera on wherever the ball is at that moment, making your aware of everything you need to know at a glance. You might want to swap out of ball cam occasionally for some cheeky maneuvers, but it's often the best starting point for those new to Rocket League.
Learn to Pop Up the Ball
One of the most important steps when learning to dribble and control the ball is popping it onto the roof of the car. Professionals appear to seamlessly get the ball onto the hood of their car and control it. However, there are a number of steps gamers need to practice before they can dribble the ball like a pro. The easiest way to pop up the ball is to boost toward it and tap the left trigger to slow down before hitting the ball. The key to getting control of the ball in Rocket League is going fast enough to pick up the ball, but at the right pace to balance it. A quick session in training will help new players develop a sense for how fast to travel before contacting the ball.
If players want to have good performance in the 2v2 game mode in Rocket League, you can experiment these tips in the matches. And we believe that you will make it when you have mastered them well. Players can
Buy Rocket League Credits
to unlock more good cars or upgrade them for matches in the game. Upgraded cars will help you win more matches instead.