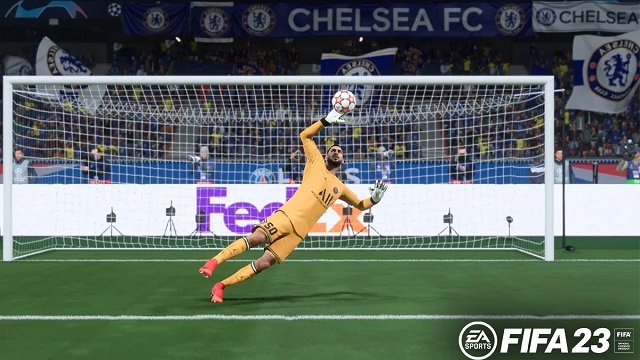 When you play football on the court, you should not forget the importance of the goalkeeper. A gifted goalkeeper will save the whole team in the difficult situation. Are you still looking for good goalkeepers for your ultimate team? We are going to list several good goalkeepers in 2023. Players can
Buy FUT 23 Coins
to introduce good players from the transfer market and improve your team.
Best Goalkeepers (GKs) for FIFA 23 Ultimate Team
David De Gea, Manchester United
David De Gea has been nothing short of amazing throughout his entire career, especially at Manchester United. It's commonplace to consider him as the only reason the club stayed out of relegation territory after the retirement of Sir Alex Ferguson as a manager in 2013.
To this day, De Gea is a phenomenal goalkeeper. He's an 87 overall in FIFA 23 with minimal defeating attributes. His Reflexes are cat-like and his Positioning is near perfect. He'll always be in a good spot when a shot comes off and if he isn't, his quick reflexes will save him.
Hugo Lloris, Tottenham Hotspur
Hugo Hadrien Dominique Lloris is a French professional footballer who now plays goalie for the Premier League club Tottenham Hotspur. He has won the National Union of Professional Footballers championship three times in his career. Lloris has been very busy on the international front with France, making his first appearance on the international stage with France's under-18 squad.
Lloris is a goalkeeper who is known for having fast reflexes and excellent decision-making. He is also considered to be a strong opponent in one-on-one scenarios. The manner in which he plays the game, in particular the quickness with which he comes off his line to foresee his rivals and retrieve the ball.
Thibaut Courtois, Real Madrid
Thibaut Courtois probably had one of the best seasons of his entire career last year. His Champions League performance with Real Madrid boosted him to a 90 OVR in FIFA 23. When you're just considering the standard gold cards, he's the best goalkeeper in the game. What's even more important is that he can be linked with other OP players like Ferland Mendy, Èder Militao or Vinícius Júnior.
Manuel Neuer, Bayern
He might have been around for a long time now, but Neuer is still amongst the top two goalkeepers in the world according to FIFA 23's ratings. The Bayern stopper keeps his 90 rating from last year's game after winning yet another Bundesliga title with Bayern. He will, as ever, be tough to get past for anyone facing the German giants on FIFA 23.
Gianluigi Donnarumma, PSG
PSG's starting goalkeeper is an 88 overall but with huge potential. Gianluigi Donnarumma is a golden prospect with the possibility of reaching a breathtaking 92 overall in FIFA Career Mode. The Italian superstar makes big and small saves look easy.
Donnarumma has 90 Diving, which means he can easily stretch to either side of the net. Paired with an impressive 85 Positioning, you can count on him to make routine saves on top of more threatening ones. His reflexes are among the highest at 89.
Players can select the suitable goalkeepers according to the formation of your ultimate team in FIFA 23. High rating goalkeepers are not easy to get without
FIFA 23 Coins
, you need play more matches and complete more quests for enough coins in FIFA 23.