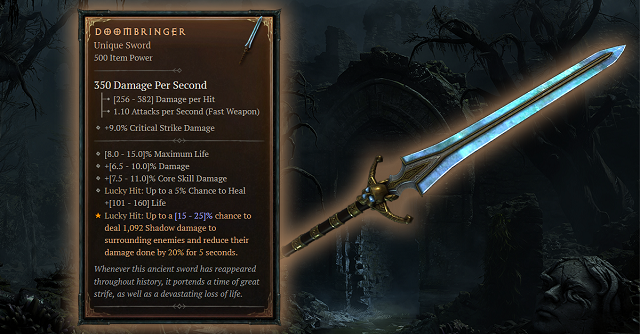 Many players expect to build the strongest characters in the world of Diablo 4. In the process of leveling up characters, they are also looking for high level and rare gears at the same time. The Doombringer is one of the most rarest unique weapon in Diablo 4. Some players are wondering how to get this powerful weapon. You can read this article for guidance. Players can also use
Cheap D4 Gold
to upgrade your gears quickly in the game.
What's the Doombringer in Diablo 4?
The Doombringer sword in Diablo 4 is unusual from other weapons in that any class can wield it. With a base damage that could put a dent in a mountain and a speed that'll make your enemies dizzy, this sword means business. The Doombringer comes with not one, not two, but five magical bonuses. It boosts your critical strike damage, core skill damage, overall damage, and maximum life, and it even gives you a chance to heal when you land a lucky hit.
Getting your hands on a Doombringer is difficult since it's actually an ultra-rare sword. Very few ilvl820 players have managed to get it to drop. It will only drop in the highest world difficulty: World Tier 4 Torment. It's like it's reserved for the elite warriors who crave the ultimate challenge.
How to Get the Doombringer in Diablo 4
Like the majority of items in Diablo 4, you will have to rely on luck to get your hands on the Doombringer sword because this unique item is a random drop that can be found by defeating enemies, opening chests, or breaking objects.
To have the chance of finding unique items, you must be in at least World Tier Three.
I recommended focusing on Helltide events if you are looking for regular unique drops. You should collect 175 Abherrant Cinders and open a Tortured Gift of Mystery, which can be found hidden in select locations during a Helltide event.
The best way to collect Aberrant Cinders is to look for large groups of enemies or participate in events, both of which can offer a large number of drops. Be careful though, as you'll lose half of your Abherrant Cinders if you die.
When a Helltide event is not active, the best approach is instead to work your way through Nightmare Dungeons, as there are plenty of enemies to defeat to get drops, while the completion rewards can also provide unique items.
Doombringer Stats in Diablo 4
820 item power
1,241 damage per second
[903-1,355] damage per hit
1.10 attacks per second (fast weapon)
+17.5% critical strike damage
+12.5% core skill damage
+16.0% damage
Up to a 5% chance to heal [523-941] life
12.0% maximum life
Up to a 20% chance to deal 5,822 shadow damage to surrounding enemies and reduce their damage done by 20% for 5 seconds
Doombringer is account bound, meaning it cannot be traded, but can be used on any class, and any of your characters. The item's description reads, "Whenever this ancient sword has reappeared throughout history, it portends a time of great strife, as well as a devastating loss of life".
If players want to get this weapon, you can follow the guidance and repeating completing quests in Diablo 4. And if you need other good gears, you can
Buy Diablo 4 Gold
to select the suitable one for your character.