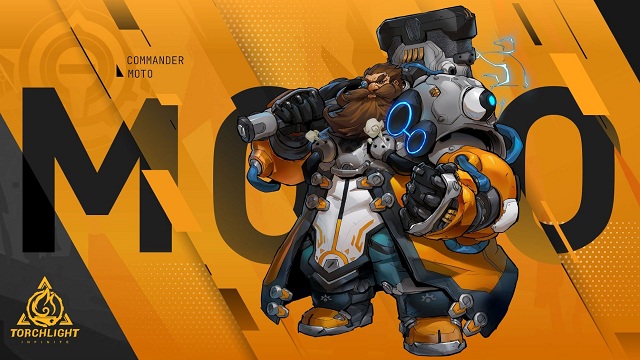 Torchlight Infinite has become one of the most popular ARPG on the internet, which attracts a lot of players' attention. Many players are going to join in the adventure of Torchlight Infinite. In order to start your exploration, you have to choose your character among several original characters in the beginning. If you have no idea about the choice of character in Torchlight Infinite, We will recommend you the Commander character at first. You can read this article to know about how to play Commander in the game. Players can use
Cheap Torchlight Infinite Currency
to purchase their desired weapons or items for characters in order to improve their capacities in battles.
What's the Commander Class in Torchlight Infinite?
The Commander Moto is an instructor in the game, who was once the Iron Spate Knight's chief. He is good at ember tech and engineering, and he can summon the high-tech devices to do things according to his orders. Commander Moto does well in long, distant fighting and melee range fights. His different play-style makes him become the unique character in Torchlight Infinite.
Best Hero Traits For Moto Commander
For our hero trait, we're going to want to spec into Overload. This will give our minions a bunch of critical strike rating, attack speed and skill range.
Level 15: Ordercalling
Level 32: All In
Level 50: Veteran
Level 62: Brothers in Arms
Level 80: Rest & Ready
Best Equipment for Moto Commander
Helmet: Fallen Knight Helmet
Armor: Unbreakable Armor
Necklace: Truth
Gloves: Elder Sage's Long Gloves
Belt: Night Conqueror's Light Belt
Boots: Imperishable Feet
Ring 1: Embrace of Eternal Sleep
Ring 2: Frostfire Ring
Weapon 1: Twisted Branch
Weapon 2: Twisted Branch
How to Play Commander Well in Torchlight Infinite
Players should know the soul of Commander. Sometimes you just want to play for a warlock or a druid, who often deal with enemies through minions. In this case, we will have robots and wards. These are two different fighting styles, although it never hurts to combine them. It's just that in the case of minions, you will simply spam them, and in the second case, you will buff yourself and destroy the enemy with melee weapons.
When you focus on skills of Commander in Torchlight Infinite, you should allocate your skills points correctly to load more useful skills in order to improve the attack of minions in the game. Blue slots are used for buffs and the yellow slots are used for show the skills you open. You need open more skills and accumulate enough energy to release these skills in the process of battles. Then your minions can be upgraded and improved in the end. Your attack is based on the improvement of minions in the game.
When it comes to the talents of Commander, if you are going to choose the God of Machines talent branch, you can choose to increase the damage and health of both robots and wards. And other talents are used to improve the attack of robots in battles. Powerful robots will not only defeat more enemies,but also protect yourselves from attacks in the process of completing quests in Torchlight Infinite.
If you are willing to play Commander Moto in Torchlight Infinite, these tips and skills may help you a lot. In the process of quests, you can experiment these tips for the build of Commander and try to build the powerful Commander in the game. Players can
Buy Torchlight Infinite Flame Elementium
to get some rare materials for leveling up characters quickly, and you will get into the end-game contents early instead.