The Latest Fortnite V8.40 update
is now live on all Fortnite platforms and brings up a brand-new LTM, named
The Air Royale
,a mode based around the X-4 Stormwing planes. Throughout the duration of this LTM, there will be nine total challenges within the mode.
By completing all challenges in the new Air Royale Limited Time Mode, players can unlock a total of four free weapon wraps
. At the moment, the first three challenges have been revealed and upon completion players will receive a Callsign Hornet weapon as rewards. Keep on reading for more details on Fortnite Air Royale Challenges and rewards.
Fortnite Air Royale LTM
Introduced in the v8.40 update on April 17, Air Royale is a Duo-only Limited Time Mode. Within the mode, players compete in dogfights against each other to keep their airplanes flying the longest. Squads of two players pilot an X-4 Stormwing, having three lives to shoot down as many enemies as possible. Landing or parking your plane for more than a few seconds will cause it to explode so make sure to keep flying. Running out of lives will cause you to be eliminated from the match, but you can hijack another team's plane in order to steal their lives.
Items will drop out of the air in chests, which can be picked up by flying through them. The same with health packs, which float in spots around the map. Flying through a chest and receiving the same gun or rarity that you already have will give you extra ammo. You can also unlock more cosmetics in Fortnite Item Shop with
Cheap Fortnite Top Up V-Bucks
at
5mmo.com
. With a coupon code "
5MMO
", you can enjoy 3% off.
Fortnite Air Royale Challenges
In total, there are nine challenges,offering a bunch of EXP and Wrap rewards. Completing certain challenges will unlock an abundance of XP while others will give you a new Wrap. Challenges will be active from now until April 24. Once the event ends, you won't be able to unlock any of the items on offer anymore.
So far, all nine Air Royale Challenges have been leaked, with only the first three currently in the game. By completing first three challenges, players can unlock a Callsign Hornet weapon wrap. Here's a full list of all nine challenges:
Deal damage to opposing Stormwings with an SMG or Minigun (4000)
Collect different rarities of Sky Chests as a pilot (1)
Play matches of Air Royale (7)
Deal damage to opposing Stormwings with Pistols (2000)
Destroy opposing Stormwings (5)
Outlast Opponents in Air Royale (100)
Deal damage to opposing Stormwings with an Assault Rifle (5000)
Deal damage with upgraded Stormwing weapons (4000)
Place Top 5 in Air Royale (3)
Fortnite Air Royale LTM Rewards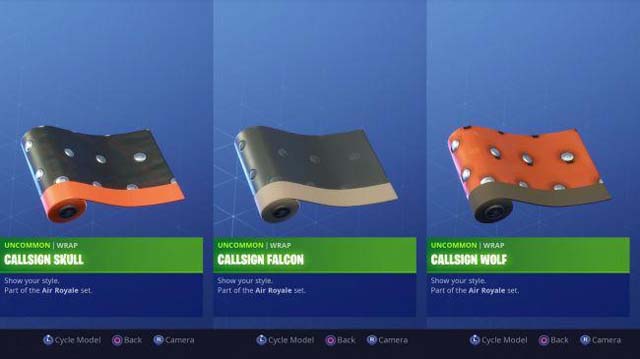 Throughout the Air Royale LTM, players can unlock a total of four cosmetic items,all of which will be weapon wraps by completing all nine challenges. Players will receive the Callsign Skull wrap for completing the first three challenges, the Callsign Falcon wrap for completing the next three, and Callsign Wolf wrap for the final three.