To survive in Kingdom Hearts 3, you have to
craft various high-tier weapons and deal more damage to fight against tough monsters
. The Ultima Weapon is the best the weapon in the game.
To synthesize the Ultima Weapon, you have to collect a wide variety of specific resources
. The following is a full list of things you need. To help you out,
5mmo.com
presents you with this Ultima Weapon guide guiding you how to farm all those resources in Kingdom Hearts 3. In addition, our website also provides
Cheap Kingdom Hearts 3
. Now, let's dive in.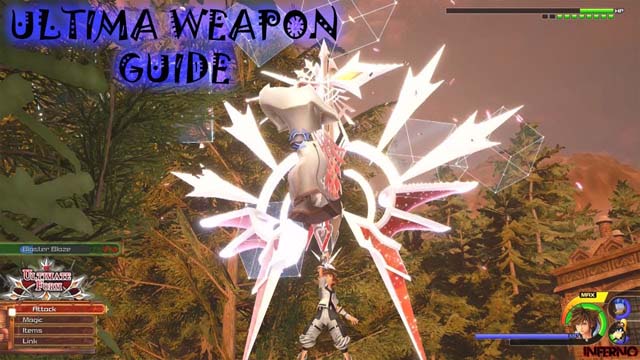 Materials for Crafting Ultima Weapon in Kingdom Hearts 3:
7 Orichalcum+
2 Wellspring Crystal
2 Lucid Crystal
2 Pulsing Crystal
Where to Farm 7 Orichalcum+ in Kingdom Hearts 3?
Unlike common Orichalcum, Orichalcum+ is a rare item and it can only be used for synthesizing the Ultima Weapon. Orichalcum+ are very hard to find in the game and they can only found in the following 7 spots. To save you time, here's a list of all the 7 locations in Kingdom Hearts 3:
1.Unlock a Treasure Chest in The Final World
2.Unlock a Treasure Chest in The Caribbean
3. Complete all the seven Flantastic mini games and get high scores. Then you will receive the Orichalcum+ as rewards.
4. Take a picture of all 90 Lucky Emblems in Kingdom Hearts 3 and you'll receive Orichalcum+ as rewards.
5. Collect 10 Treasures in a mini-game in Arendelle called Frozen Slider and you'll receive Orichalcum+ as rewards.
6. Gummi Ship: Defeat Omega Space Ship in The Eclipse Galaxy and you'll receive Orichalcum+ as rewards.
7.
Moogle Shop Postcard: You'll earn a Raffle Ticket when you shop at the Moogle Shop and the Orichalcum+ is one of the raffle prizes!
Where to Farm Wellspring Crystal in Kingdom Hearts 3?
Wellspring Crystals are synthesizing materials that are only found in specific worlds in the game. So players are best off sticking to Monstropolis, San Fransokyo, and Island of Luck in The Caribbean for search Wellspring Crystal. The best way to farm Wellspring Crystals is to take on Battlegate 12over and over in San Fransokyo, one of the later worlds in the game, and is home to Big Hero 6. you can earn around 5 Wellspring Crystals and Gems for each run.
Last way to earn Wellspring Crystals is to be dropped from specific enemies in worlds after Monstropolis.
Where to Farm Lucid Crystal in Kingdom Hearts 3?
If you're still looking to farm them you can get them post game from battlegate 10 in the Caribbean. They're a very rare drop though. I recommend running Favorite Deputy and having someone in your party have both master medal with lucky strike and lucky ring. Even with that I got 4 soothing crystals and 2 wellspring crystals there before I got my first lucid crystal.
Alternatively,you can also do Battlegate 7 in Kingdom of Corona to get Lucid Crystals. Use Favourite Deputy and spam Aeroga. Not only does it kill them insanely quickly, but I genuinely feel like my average count went from 1 to 3 every run.
Where to Farm Pulsing Crystal in Kingdom Hearts 3?
The Pulsing Crystal is one of the rarer synthesis materials Kingdom Hearts 3 and is an end game item that can only be obtained by synthesizing them at a Moogle shop with Pulsing Gems, Stones and Shards, and a Wellspring Crystal. So, they are extremely hard to collect. Here are come tricks to help you out. First, Pulsing Shards can be obtained rapidly by grinding through the Power Wild heartless in the Kingdom of Corona area of Kingdom Hearts 3. in addition, Pulsing Stones can be dropped by the Satyr heartless you encounter in Olympus, Arendelle and Sanfransokyo. Last, Pulsing Gems can be obtained by defeating the Pogo Shovel Heartless found in the Monstropolis and Sanfransokyo of Kingdom Hearts 3.
Now we are wrapped up with this gem farming guide. Hopefully, with this guide, you can collect all those resources fast and craft the Ultima Weapon. For more news and guides on Kingdom Hearts 3, stay tuned to
5mmo.com
.