Pilot Level and XP
in Anthem play a central role in your overall progression through the grind. In Anthem
your level directly decides how much damage you're dealing and how powerful your weapons are, what power-ups you have access to, and more.
Even if you have got to the end of the main Anthem story, you'll still only be around level 20 or so. To help you to reach the best loot at level 30,here is a guide on how to Level-Up fast in Anthem.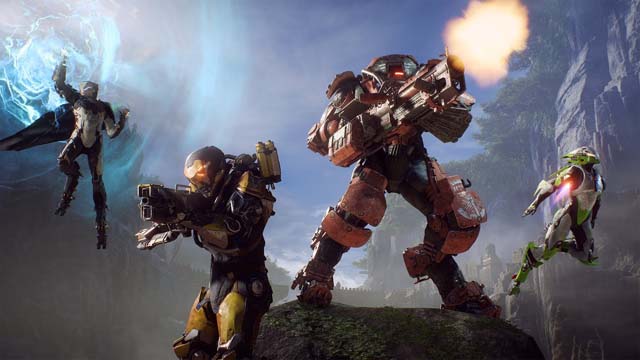 How To Level Fast In Anthem?
Team Up
Anthem rewards you with bonus XP depending on the number of players that are in your squad. For every squadmate you finish a mission with, you'll get a big chunk of extra XP as a reward. Therefore, if you want to hit the endgame faster, you gotta keep your squad open and play with your mission set to public.
Set Difficulty on Hard
Playing on a higher Difficulty means higher quality loot and higher XP as rewards for success. To play playing Anthem on hard, you have to be familiar enough with your Javelin, its abilities, and how the combo system works to be able to handle tougher enemies. To make your javelin more powerful and deal more damage to enemies, you can buy
Cheap Anthem Shard Packs
to equip your javelin with more powerful weapons at
5mmo.com
. In addition, with a coupon code "
5MMO
", you can enjoy 3% off. Besides, as we mentioned above, by teaming up with other players, you may be matched with higher-level players who can help you out.
Do Freeplay
Freeplay is a great way to farm XP in Anthem,too. Completing a world event in a Freeplay session will be counted as a general feat and will grant you XP. The first will grant you 200 XP, the second 400 XP, and the final one 800 XP. Later, you can go back to Fort Tarsis to reset feat tracker and get back at it again. If you get fast at completing them, it is one of the fastest ways to level up in Anthem.
Do Legendary Contracts
Another way of leveling up rapidly is to make sure you've completed any and all contracts you may have accepted while in Fort Tarsis. When you tick off all of the normal contracts you'll soon find yourself being given legendary contracts, which are easily recognizable by their purple icon on the map. Once started, all you need to do id to kill as many enemies as you can and these get you more XP than usual.
Try Quickplay
Quickplay is a fantastic way of bouncing in and out of matches to quickly earn XP. Since you can be dropped into any mission or stronghold in the game, including the final one, so it's probably best to wait till you've completed the story if you want to avoid spoilers. In a world, quickplay marathon sessions will get you XP, good loot, and can be pretty fun.
Now we are wrapped up with this Anthem leveling guide. For more news and guide on Anthem, stay tuned to
5mmo.com
.