It will be the 10
th
birthday for FUT (
FIFA Ultimate Team
) later this month. FIFA players look forward to the birthday celebration of FUT for that it offers the chance for players to get special player items under the circumstance you complete special challenge. What's more, EA Sports will try their best to launch new content, can you bet what content will be launched to celebrate FUT 10
th
birthday? First of all, let's introduce FUT briefly and make some predictions about what will happen during the
FUT birthday
celebration.
Ultimate Team is the most popular mode of FIFA, and it born in 2009. FIFA 19 Ultimate Team is a free-to-play extension of FIFA 19 where you can try to build the team of our dreams. Ultimate Team is not just creating unique teams with your favorite players, but also there are some new goals to finish, for instance, testing other players, trying a new formation, winning a tournament, qualifying for the Weekend League, etc… The game never ends.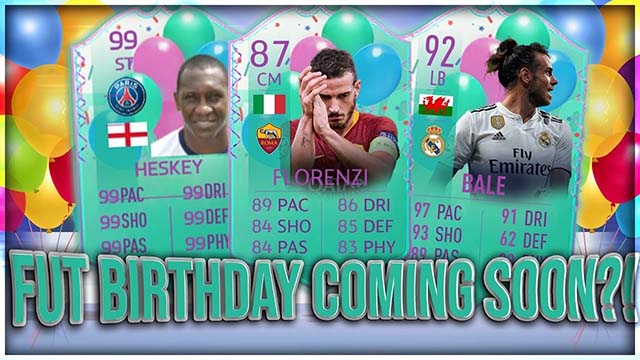 You may think, what will happen during the FUT birthday event? EA Sports has not announced the new content for this year's birthday celebration. But it may be received EA's attention and be the biggest celebration ever, because it will be the 10th anniversary of FUT. For previously birthday celebration, FUT Birthday Squad can get packs, upgraded ratings of past FUT players and new positions for and improved stats for some of the favorite players in the game. What's more, you can unlock special rewards if you have finished Limited-time SBC.
The information about the event has been compiled below. What and when the FUT Birthday event and other information about FUT. If you want to buy
Cheap FIFA 19 Coins
, 5mmo.com is your best choice.
About the time of FUT 10
th
birthday celebration, EA has not announced yet. But FUT's first birthday took place on March 19, 2009. It was a Friday, so we can likely expect the event to begin on Friday March 15.
Do you know what FUT birthday event is? EA will hold a birthday celebration for Ultimate Team for a week, during this period; FIFA players can get new birthday cards, new Icons, new SBCs and special packs.
As a fan of FIFA, you may familiar to the FUT Birthday Squad.The FUT Birthday Squad is the headlining feature of the birthday celebration of FUT. FUT Birthday Squad can be provided with new birthday-themed cards and improve ratings and stats. The players that will be selected by EA are always players who were well-known among FIFA fans in previous versions of the game,including both household names as well as lesser stars.
Can you predict which welfare EA will bring to game fans? Will FIFA 19 FUT Birthday offers contain special promo packs & lightening rounds, FUT Birthday players SBCs, weekly objectives, new prime icons and FUT Birthday Cards as we expect? Whatever, it may be a big surprise; after all, it is a 10-year milestone of FUT. So let's hold the attitude of expectation.