How to get Pets in Roblox Adopt Me 2021: Best Way to obtain your dream pets for free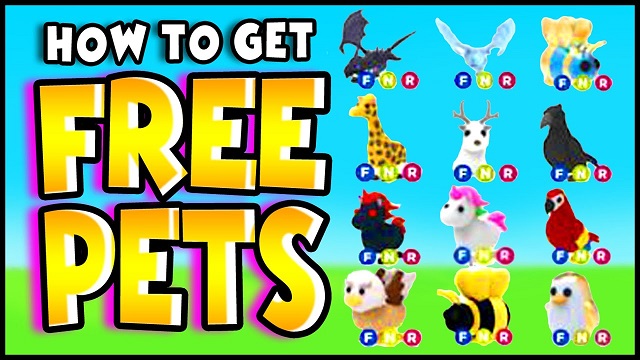 How do you get a free pet on adopt me? How do you get the pet you want in Adopt Me for free? Follow this short article, you will find the answer.
Logging in at certain times
There are two different types of events that will gift you with either an already hatched pet or a rare egg. The first usually comes around on holidays like Christmas, Halloween, and Easter. When you log in around these times, Adopt Me will immediately let you know where and how to collect your free egg. The second type of event is solely based on if you play every day. If you play 30 days in a row, no matter how long each session is, the game will give you a free Cracked Egg. Unlike typical pet eggs, the Cracked Egg has a greater chance of hatching a common pet.
Star Rewards
Star Rewards are a great way to obtain free pets! All you really need to do is login every single day to gain stars. The more you login the more stars you will accumulate. Not only that, you will gain bucks each day that you jump into the game. Every five days you will get a gift, and a bonus amount of stars. On your 30th day, you will receive a Cracked Egg that you can hatch for a pet! Once you've collected 210 stars, you can purchase yourself a Ginger Cat. If you save up 400 stars, you can get a Toucan. 550 stars will get you a Starfish, and if you can get all the way up to 660 stars you can get a Golden Egg that will give you either a Golden Unicorn, Golden Dragon, or Golden Griffin once you hatch it!
Earn bucks
This method sounds boring but it's very useful. It might e the most typical option for obtaining pets without spending real world money to get pets. There's a variety of ways to earn in-game bucks: paychecks, login bonus, objectives, money trees, and etc.
Player & Pet Tasks
Completing tasks will not only grant players money but will also increase your pet's level, which is helpful later on if you plan to make the pet neon. Tasks are split into two groups, blue and orange. Successfully completing blue objectives will earn you 6-7 bucks. These include tasks like feeding, showering and letting your tired pet sleep. Orange tasks will bag $12 bucks and are time limited, therefore, players should prioritize these ones. Usually, the tasks require you to travel to specific locations on the map like school, park or campsite and chill there for a little while.
By purchasing them at 5mmo.com
There are 5 different types Adopt Me Pets for you to hatch from eggs, including common, uncommon, rare, ultra-rare (Flamingo, Koala, Lion, Turkey and more) and legendary (Albino Monkey, Arctic Reindeer, Bat Dragon, Cerberus, Crow, Dodo, Frost Dragon, Golden Penguin, Golden Rat, Kangaroo, Owl, Robo Dog, Queen Bee, Shadow Dragon, Unicorn & more) pets. Now, you can find all of them here at 5mmo.com.
Cheap Adopt Me Pets for Sale
, discount prices ever!