One of the most important decisions you'll make while playing Path of Exile is
character selection
. Depending on which exile you pick, you will find that your play style may be completely different.beginners often find it hard to make a choice among various classes. To help you out, here's
a guide to choosing a character class in Path of Exile.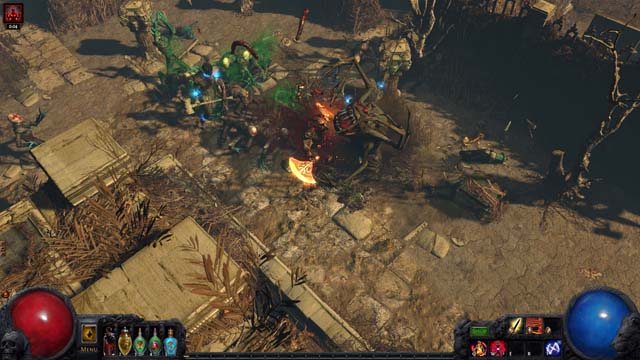 Character classes varication
There are seven character classes in Path of Exile. Six are available at the beginning of the game and one unlocks later. The classes are defined by how they combine the three primary attributes of Strength, Dexterity and Intelligence. It sounds simple, but like most things in Path of Exile, it's not. Here are Path of Exile's character classes along with the attributes that define them. The Scion is not available at the beginning of the game.
Duelist:
Strength and Dexterity; He fights with melee attacks and may also summon an AI minion to battle alongside him.
Templar:
Intelligence and Strength; Fires projectiles, including three balls of lightning at the same time along with a chain lightning attack.
Witch:
Intelligence; A lady spellcaster rich in intelligence.
Ranger:
Dexterity; She utilizes a bow and it is very dexterous, but could wield swords too. Despite as being a glass cannon, the ranger is my type of choice.
Marauder:
Strength; A melee fighter with tremendous strength.
Shadow:
Dexterity and Intelligence; A dexterous and intelligent fighter, he makes use of short-range weapons and traps during the fight.
Scion:
Dexterity, Intelligence and Strength; She will become any character build because of Path of Exile's skill system. This will make her a sophisticated character, and she or he should be unlocked later hanging around.
Moreover, each of the six starting classes can be further specialized with the choice of an Ascendancy sub-class. For example, Marauder's Ascendancy sub-class include Juggernaut, Berserker, and Chieftain. For lack of in-game currency, come and buy
Cheap Path of Exile Currency
at
5mmo.com
, the cheapest online in-game currency online store. Additionally, you can enjoy a 3% discount by using the code "
5MMO
" at our website.
Armor, weapons and skills
While there are no class restrictions on gear or abilities in Path of Exile, armor, weapons and skills are attuned to the three attributes that define each class. However, any class may use any skill. For example, The Ranger will do best with Ranger-oriented weapons and armor but she can also benefit from gear designed for Shadows and Duelists who share her reliance on Dexterity.
To achieve additional skills in Path of Exile, you'll usually have to equip gems into sockets inside your gear. There are two kinds of gems:
Skill gems: These add a panic attack, spell, projectile, or trap/mine.
Support gems: These gems modify supportable skills when outfitted inside a linked socket (one which has a line attracted to a different socket).
The support jewel should be suitable for the jewel within the linked socket to be able to have an impact.Outfitted gems also gain levels while you earn XP, receiving 10 % from the base XP awarded from monster kills. Your character encounters an XP penalty when revisiting lower level areas, however, that penalty does not affect gems. Thus you are able to rapidly level gems by replaying areas which are a couple of levels less than your present level.
Choose a class
If you're new to the game and take some time to get a grip on how classes work, the choice you make can help you cut through PoE's overwhelming complexity (and this article only scratches the surface). Focus on gathering gear and choosing active skills that match the core attributes of your starting class. Focus on your Ascendancy class as you carve out a path through the Passive Skill Tree.