In Warframe, as you progress through the game, you'll need high-tier weapon or gear to upgrade your Javelin to make them more strong.
There are two way to obtain new weapons or gear. One is to acquire new loot through sheer luck and loot drops,the other to is craft.
This guide will show you how to gather your resources and construct the items you need to build up your armory.
The crafting interface can be found on your ship. You can build almost anything - Warframes, Archwing, Sentinels, weapons, and other items. Access to crafting is unlocked after completing the tutorial mission (Vor's Prize) during which a crafting interface is installed. Every item that you wish to craft requires a Blueprint. Blueprints enable you to craft the item and learn about its costs. Here's a chart (source unknown) which displays which weapons can be used to craft upgraded versions. Handy for deciding which weapons you want to sell or keep.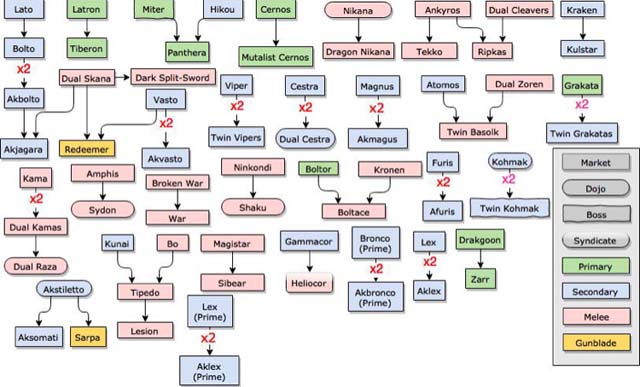 How To Unlock Blueprints?
For ordinary weapons, you will need the blueprint. While these can drop at the end of missions, it's unlikely and your best bet is to utilize the Market console.
Load it up, and choose "Browse," then select Weapons. This will bring up all of the weapons in the game. You can buy them outright for
Cheap Warframe Platinum
from
5mmo.com
, where you can enjoy the cheapest price online with a coupon code "
5MMO
" for a 3% off. If you don't want to spend money, then select the Build button/tab. This will list the blueprint price. Once you have enough credits, you can then buy the blueprint.
To find your blueprint, you need to head to the Foundry. Within the Foundry you will find all the Blueprints that you have acquired from different places such as the market, missions, etc.
On each of the blueprints you will see the following information:
1. On the top, the name of the blueprint
2. Underneath, the required components to construct the item (number indicates [how many you own] or [how many you need]).
3. If you hover over on the blueprint, it will display the item's description, and the component names.
4. On the bottom left, you will see how much credits are required to start the construction, and next to it shows the construction time for the item.
Crafting Resources
Of course, blueprints aren't much good without the components they require. Every set of plans you acquire comes with its own requirements that, besides credits, are usually unique to whatever you want to build.
You can see these requirements by heading to the Foundry where all of your blueprints will be sorted by category and show you how many components you need to build them. Plus you can see how much of a given resource you already have.
Resources are earned in many ways. The most common, if not the most direct way of doing so is to simply play Warframe. You can check the video above to see how to craft some main resources in Warframe.