The Division 2 Material Guide: Where To Find Printer Filament, And Other Materials
Crafting is a vital part of progression in The Division 2
. Not only do you get access to high-level gear and weapons, but also certain items allow you to enhance your existing equipment and becoming a more menacing force. To craft in The Division 2, you'll need a variety of materials. Some materials are easy to find, while others, especially rare materials are hard to farm. Here's you can learn
how to get Printer Filament in The Division 2, in addition to farm normal and specialized supplies
.
Generally saying, you will obtain most materials by looting from loot each chest, field, and cache that are scattered across the areas you go to as you full missions. However, there are rare chance to loot some rare materials in such a roundabout way and the Printer Filament is one of them.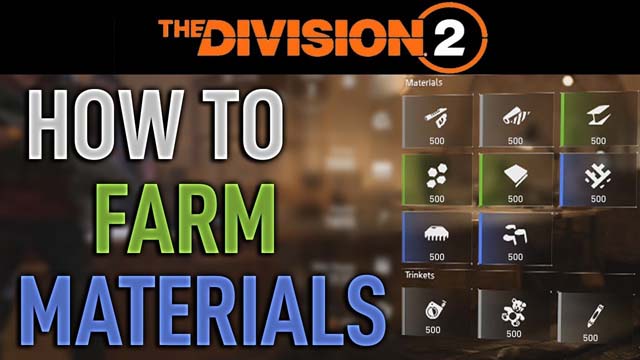 How To Get Printer Filament In The Division 2?
To get Printer Filament, you want to deconstruct Gear Mods and Skill Mods in your stock. All rarity levels of mods give players Printer Filament, and it can be acquired from Skill Attachments, Gear System Mods, and Gear Protocol Mods.
To discover mods, go to the gear icon in your stock. This means your finest technique of amassing Printer Filament is to still hunt for those nodes whenever possible to find gear that can then be broken down into the valuable resource.
How To Farm Specialized Materials In The Division 2 - Carbonfiber, Electronics, Titanium
Before you find each of the above mentioned materials, here's a trick that makes these items easier to obtain. First, unlock a specific perk: Detection 1, which allows Agents to see all of the lootable objects in an area around a Control Point when you donate supplies to it.
Next, players simply need to pick a Control Point they've already established and fast travel to that location. Once you've arrived, donate some resources to the Officer, and you'll be able to scoot around the area and collect a ton of materials.
How To Farm Specialized Materials In The Division 2 - Ceramics, Polycarbonate, Steel
One way to boost the amount of Standard materials – like Ceramics, Polycarbonate, and Steel – The Division 2 players should pick up the Deconstruction perk from the Quartermaster as well.
The Deconstruction perk gives Agents a bonus chance to acquire additional materials when you're deconstructing items, which, if you hadn't noticed, you do a heck of a lot of throughout the game. Therefore, you should unlock the perk as soon as possible at the beginning of the game with
Cheap The Division 2 Credits
from
5mmo.com
, where you can enjoy the cheapest price online and fastest delivery.
How To Farm Materials In The Division 2 Dark Zone-PvP
In addition, Completing actions all through the open world additionally tends to reward you with an honest quantity of normal supplies. These embody liberating management factors, stopping public executions, and rescuing civilians. You can often get 3-4 of a particular resource for doing these.
Dark Zones, the PVP aspect of The Division 2, is riddled with crates containing high-tier loot including valuable and rare resources. Most of the decent loot will be locked inside Dark Zone chests which can be opened via special keys dropped by elite enemies of the region.