In Apex Legends, there are various items and rewards for players to earn during the games. Among these rewards,
Heirloom Items
are the highest tier of rare items a player can receive in the game. They are a secret tier of items that will spawn from cosmetic Apex Packs, Apex Legends' equivalent to loot boxes. So far,
only one Heirloom set for the legend Wraith was found by fans.
The set includes a skin for the melee weapon, a pose, and an intro. Here's how you gonna to unlock the Wraith's Heirloom set.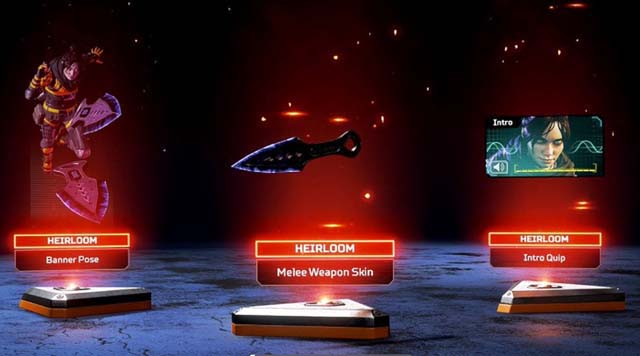 Apex Legends Heirloom Set Overview
How To Obtain Heirloon Set?
Heirlooms can't be crafted with Crafting Materials, so you'll just need to hope you're one of the lucky few. As with the chance, Respawn Entertainment has said that players won't be able to open more than 500 Apex Packs without receiving an Heirloom set, so it definitely pays to grind. Once a player sees a crimson red light as they are opening their Apex Crate, that indicates they will receive an Heirloom set. In addition, once you've found all of the Heirloom sets, you won't receive another until more are added to the game.
What's Included In Heirloom Set?
In short, Heirloom set includes super-rare cosmetic items you can unlock in Apex Packs. Those cosmetic items won't give you any sort of strategic advantage in the actual game. However, they will help you stand out among the millions of other Apex Legends players.
The cosmetic items include skins for the weapons you can pick up in each match, a unique version of the melee item that you start with automatically, along with special banners and Intro Quips.
So far, only an Heirloom set for Wraith has been dropped, which contains three different cosmetic items for fans to equip. The following is a full list of all the cosmetic items. So, have you got one? If not, wish you luck and get one soon!
Wraith Heirloom Set
Heirloom Banner Pose
Heirloom Melee Weapon Skin
Heirloom Intro Quip​
How To Unlock The Wraith's Heirloom Set?
Unfortunately, in Apex Legends, there's only one way to unlock an Heirloom set and that's by opening Apex Packs. With every Apex Pack a player opens, there's less than a 1% chance that an Heirloom set will appear. Note that the Heirloom set won't be one of the items within the Apex Pack, but rather a bonus reward. When you see a crimson red light, that indicates you will receive an Heirloom set. So,how many Apex Packs have you opened yet? Wanna unlock more Apex Legends packs and get a Wraith Heirloom Set? Buy more Apex Legends packs with
Cheap Apex Legends Coins
from
5mmo.com
, where you can enjoy the cheapest price online. Moreover, with a coupon code "
5MMO
", you can enjoy 3% off.
That is all with Apex Legends Heirloom set guide. For more news and guides on the game,stay tuned to
5mmo.com
.