If you love Forza Horizon 4, then you should grab a Asphalt 9: Legends, one of the best car racing game in 2018. As the ninth game in the Asphalt series,Asphalt 9: Legends is at its best with upgraded amazing graphics, a new car lineup, new controls, and race maps, and the redesigned "shockwave nitro".
The latest Asphalt 9 Legends 1.4.3a update
rolled out with some novelties and improvements. Moreover, it brings players a car you may have never even seen before:
The brand new Lamborghini Huracán EVO Spyder
. Now Let's see how to unlock this flashy new car.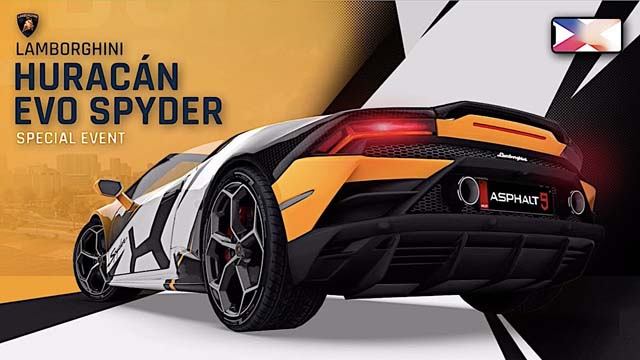 What Car Is This?
Lamborghini's Huracán EVO Spyde is the newest car that just was revealed at the world-class Geneva Motor Show, The car sports a 5.2 litre naturally aspirated V10 engine designed for high power output, which makes this car one of the fastest and most ferocious on the road. At the same moment, Asphalt 9: Legends lifts the curtain of the new Lamborghini in the virtual game.
How To Unlock The New Lamborghini Huracán EVO Spyder?
If you want to give the new Lambo a try, you can play the limited-time Geneva Motor Show event. These special events pop-up all the time and you will need to complete them all if you want to collect the 45 blueprints needed for the Huracán.
The special event where you can unlock these blueprints from March 8 to March 21. The special event will have 11 stages, each stage offering you the chance to get your hands on some blueprints. You will get these blueprints by winning the race in a certain time or car and you will get extra blueprints if your club competes too.
Once you've collected all the 45 blueprints, you will be able to add the new car to your car collection. You can also unlock more cars with
Cheap Asphalt 9 Legends Credits
at
5mmo.com
. With a coupon code "
5MMO
", you can enjoy 3% off. In addition, compared with other online selles, we offer much faster delivery.
What Is New In Asphalt 9 Legends 1.4.3a Update?
Aside from that fantastic addition, the latest update also introduces a new "The Lamborgini Huracan EVO Spyder Event" for players to have fun. In the event, you will be able to experience the new and fantastic speed of the car for the first time. In addition, some new decals for vehicles are also added.
All the novelties included in Asphalt 9 Legends 1.4.3a are:
New Exclusive Deals
New Event Launched "The Lamborghini Huracan Evo Spyder" Event
New Car Launched "The Lamborghini Huracan Evo Spyder"
New Decals
The new Asphalt 9 Legends 1.4.3a update is already available to download from the Google Play Store. For more news and guide on the game, stay tuned to
5mmo.com
.