Anno 1800 Guide: Release Date, Special Editions, Pre-Order Bonuses, New Features And More
Anno 1800, the newest entry to Blue Byte's city-building series will come out soon
. Before you buy the game, here are the most important information about the game so far.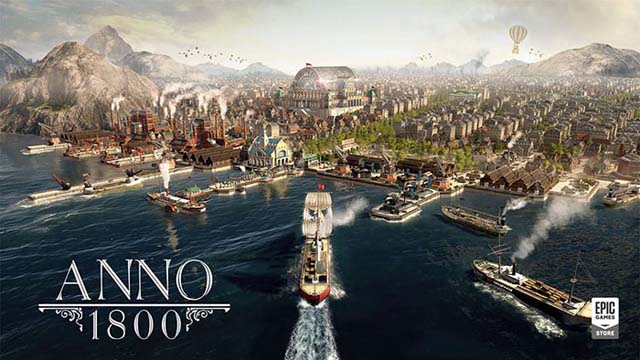 Anno 1800 Overview
Anno 1800 is a city building real-time strategy video game, where users travel throughout the world during the Industrial Revolution , discover new technologies, continents, and societies. And build a new world in their own image and write their own history!
Anno 1800 Release Date
:
Anno 1800 is set to be released on April 16, 2019, and will only be available digitally on the Ubisoft Store and the Epic Games store. Pre-orders on Steam can be made until the release of the game. Everyone who pre-ordered Anno 1800 on Steam will be able to play the game upon release and will automatically get all future updates and content. If you wanna lead the industril revolution at the beginning of the game, you can come to
5mmo.com
for
Cheap Anno 1800 CD Keys
. With a coupon code "
5MMO
", you can enjoy 3% off.
Anno 1800 Pre-Order And Special Editions
:
Anno 1800 is now available for pre-purchase on Epic as well as Steam (and Uplay, if that's your thing), at the same price and with the same preorder bonuses. A pre-release open beta will run April 12-14, and will be available through either Epic or Uplay. Here's a list of all available editions and their prices, as well as pre-order bonuses.
Standard Edition ($59.99)
The full game
Deluxe Edition ($69.99)
The full game
The first DLC as soon as it is released, with exclusive icons for your company
The digital soundtrack
The digital art book
Pre-Order Bonuses: Pre-order now and get three extra in-game items: Anno 1602 Memorial, Imperial Train, Imperial Command Ship
Anno 1800 System Requirements Revealed
:
Minimum System Requirements:
Respective Settings: 1080p Low Preset – 60 FPS
CPU Intel i5-4460 – 3.2 Ghz, AMD Ryzen3 1200 – 3.1 Ghz
GPU Nvidia GTX 670 – 2GB, AMD Radeon R9 270X – 2GB
RAM 8 GB
Recommended System Requirements:
Respective Settings 1080p High Preset – 60 FPS
CPU Intel i5-4690K – 3.5 Ghz, AMD Ryzen5 1500X – 3.5 Ghz
GPU Nvidia GTX 970 – 4GB, AMD Radeon R9 290X – 4GB
RAM 8 GB
Anno 1800 New Features
:
Go Back to History
Unlike Anno 2070 and Anno 2205, both of which are dedicated to sci-fi and futuristic settings, Anno 1800 take players back to the Industrial Revolution in history where lots of amazing technological discoveries rules such steam and electricity and build their own empire.
Anno at Its Best
Anno 1800 combines beloved features from 20 years of Anno history, such as individual AI opponents, randomly generated maps, multisession gameplay, and more. It delivers a rich city-building experience, including a story-based campaign, a highly customizable sandbox mode, and the classic Anno multiplayer experience.
Discover A New Continent
You will get the chance to explore South America with its exclusive resources and opportunities, but also its risks and challenges. Cross the ocean to discover a new world and take the most of what it has to offer.
Cultural Buildings
This new feature allows you to build beautiful museums and incredible zoos to break the monotony of houses, farms, and workshops. These unique constructions will increase your city attractiveness. In order to acquire new species of animals or legendary artifacts, you will have to participate in special events - expeditions.
You can check more new features in the video above.