To build a empire in Anno 1800, you're going to need lots of money. So,
how to make money fast and eas
y? You'll find answers below: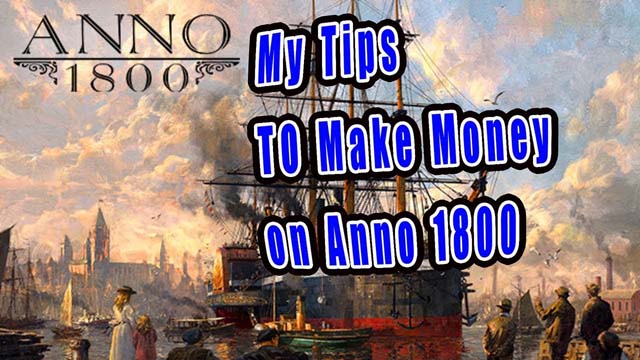 Early in Anno 1800:
Focus on Tax revenue from your population.
At the beginning of the game, don't over-produce too many goods, just try to increase your population and advance to patricians and noblemen fast. Producing just a bit more than you need to feed the population. If you do this efficiently, a large population pays enough taxes to keep you going.
Tax revenue comes from your population. You do not get very much, if any, tax income if the population's needs and happiness are not met.If you meet all the needs to the population, then you will receive 100% of the possible population and 50% of the possible tax income. Then to receive the other 50% of tax income, you must meet the requirements to make them happy.
Here's an example: 1 Farmhouse can hold a max of 10 farmers. In order to get all 10 farmers for that house, it must have access to the necessary amount of fish, work clothes and marketplace. Once you get it to 10 farmers, you are only making $5 in tax income if you haven't provided them what they need for happiness. So... once you meet their requirements for happiness, a single farmhouse provides $10.
Every upgrade to the next tier increases this value. So When you go to tier 2 and unlock workers, the max pop per house = 20 workers and revenue from taxes (When needs and happiness are met) more then double.
Mid in Anno 1800:
Trading is important.
Once you get to patricians+, trade is a main way of making money. Trade is rather tricky to follow, as it's not reflected in the balance pop-up at the top right. Regardless, being aware of what resources other players require and selling any source of surplus can provide healthy money boosts to your city. You can do so either by setting up regular trade routes or by manually loading resources and directing your ships to other ports.
You can start producing extra goods to passively sell at your warehouses. Google anno 1404 wiki trade, which shows you the most profitable goods, and explains things. To do it, for example, overproduce carpets or coffee, deliver them to all your ports and passively sell them to the AI along with fish and wood and other cheap "filler" trade items. Then get duty levies items from AI and stack them in your ports by type (so 3x books trade duty etc, try for higher level items) to get free goods to continue to passively sell to AI. Money will never be a problem again.
Extra Tips
:
Do quests is the most efficient way.
The most noticeable way of how to make money quick in Anno 1800 is by doing quests. The quests won't usually be really hard and undoable but sometimes might require some grinding from you. However, in the end, you'll be earning a good sum of money for the island. In addition to issuing them from time to time, you can also ask for a quest from the Diplomacy Screen. Click the middle button below your minimap, select a player, click the Actions button on the left then Ask for Quest.
So, if you want to lead the industrial revolution, we
5Mmo.com
offer you an easy way. You can buy
Cheap Anno 1800 CD Key
for PC, and we offer unbeatable price with safe and fast delivery.