Lost Ark Game Guide: The Signatus Boss and How to Defeat the Signatus Boss in Lost Ark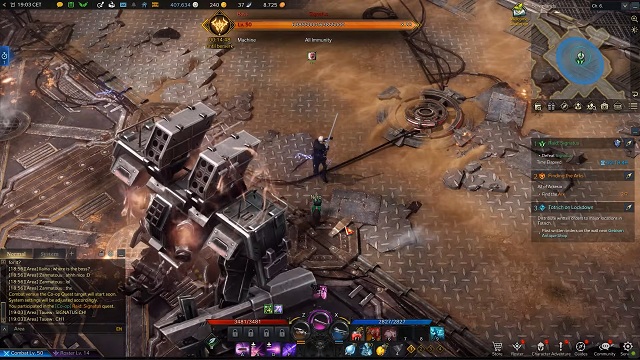 As players travel around the world of Lost Ark, they may meet some wide, empty arenas that show a grayed-out symbol in the center. Some beginners may ignore these common areas in the process of completing normal quests or searching for some rare materials. While these arenas contains the powerful Field Bosses, which consider as a series of endgame boss raids. Players can try to kill them in this arena, and you will be rewarded with good items. It is not easy for you to kill them. Some equipment of Field Bosses can even defend the attack from players. You can learn how to defeat the Signatus Boss from this article. In addition, players can buy
Cheap Lost Ark Gold
to prepare enough HP Potions for your characters, which make them survive longer in the long questing.

What's the Location of Signatus Boss in Lost Ark?
Signatus's spawn location is on the continent of Arthetine, which is located on the east of the world map. You will need to reach combat level 50 and equipped item level 250 before taking them on, and as an end-game world boss, they are much tougher than any of the ones that will have come prior. Once you are on the continent, navigate toward the Scraplands where you can find Signatus toward the north of the area, which we've highlighted above.
All the Lost Ark world bosses have respawn timers, so if Signatus isn't around once you arrive, keep an eye out on the area chat. Other players will no doubt be looking for the big mecha boss too, and they will likely call out in the chat which channel to swap to if they spot Signatus. You can swap channels with the drop-down menu in the top right of the screen. Not only is it seen as good etiquette to call out where world bosses are, but you will need the help of other players to slay them.
How to Defeat Signatus Boss in Lost Ark
The boss has a number of offensive skills and the best way to avoid its deadly attacks is not to confront it from the front. Signatus mostly always attacks in a frontwards direction, meaning that players should be smart enough to attack from its rear.
Signatus' attacks are largely area-of-effect and may cause a lot of damage if you don't avoid them. However, many of the attacks are directed in front of Signatus. You will have a lot easier time evading blows if you stay mostly behind the boss.
Remember that defeating Signatus alone will be fairly difficult. It's best that you look into the area chat to recruit other players for the raid. Channels can be swapped from the drop-down menu in the top right of the UI. This is a suitable option to use and moreover, you will be most probably killed if you fight alone.
A massive 63,855,000-point health bar can be seen on Signatus. If it is not vanquished within 15 minutes, it will go crazy, killing any players in its path and resetting its health bar to full. To fight the mech properly, players must work together in big groups and team up against it, all while staying within the time restriction. Signatus is tall and ponderous, and players seeking to stay alive can easily outrun him. Fighters within the melee range can easily wrap around to the mech's backside, safely dealing back assaults from outside its frontal attack range, because of its slow rotating speed.
If players have trouble in fighting against Signatus Boss in Lost Ark, it is time for you to upgrade your characters and gear. You can
Buy Lost Ark Gold
to collect more crafting materials for making high level weapons for your characters. They can help you pull through dangerous situations in battle.