EA Sports announced the full list of player ratings for all 32team Monday ahead of the Aug. 2 release date.
According to the ratings czars, just four players were worthy of the 99 OVR distinction for Madden 20: Houston Texans wide receiver DeAndre Hopkins, Los Angeles Rams defensive lineman Aaron Donald, Chicago Bears linebacker Khalil Mack and Seattle Seahawks linebacker Bobby Wagner. In addition, the Silver and Black's 2019 roster seems to have more talent than in years past, and bias aside, this should be a fun group to use in Madden 20.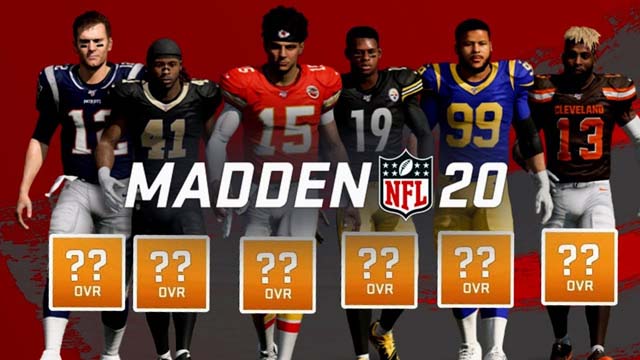 Let's take a look at top 20 players in the upcoming Madden 20 game. As you can see, they include many of the game's biggest stars heading into the 2019-20 NFL season. Listing is in order of Madden 20's list of players for the new NFL game.
RE Aaron Donald (Rams) 99
WR DeAndre Hopkins (Falcons) 99
LOLB Khalil Mack (Bears) 99
MLB Bobby Wagner (Seahawks) 99
WR Antonio Brown (Raiders) 98
WR Julio Jones (Falcons) 98
MLB Luke Kuechly (Panthers) 98
LT David Bakhtiari (Packers) 97
HB Todd Gurley (Rams) 97
QB Patrick Mahomes (Chiefs) 97
LOLB Von Miller (Broncos) 97
LE J.J. Watt (Texans) 97
WR Odell Beckham Jr. (Browns) 96
QB Tom Brady (Patriots) 96
DT Fletcher Cox (Eagles) 96
TE Travis Kelce (Chiefs) 96
RG Zack Martin (Cowboys) 96
CB Jalen Ramsey (Jaguars) 96
DT Damon Harrison Sr. (Lions) 95
FS Earl Thomas III (Ravens) 95
WR Michael Thomas (Saints) 95
LT Trent Williams (Redskins) 95
You can check the
full rosters
are available at EA Sports' website.
For more news and updates on FIFA 19, stay tuned to Rvgm.com, a professional online in-game currency store.
For more news and updates on Madden 20, stay tuned with
5mmo.com
, a professional online in-game currency store for
Cheap Madden 20 Coins
.