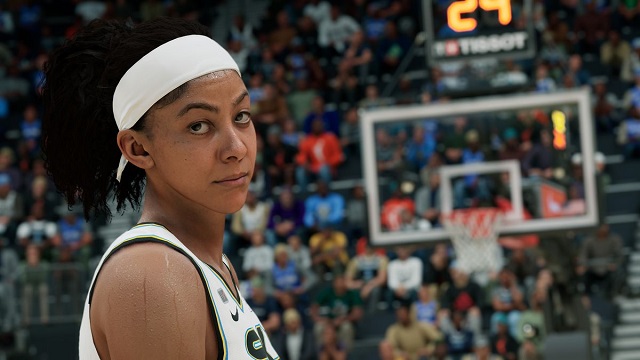 There are still a few months away from the release of NBA 2K22, but 2K unveiled the cover athletes of all versions of NBA 2K22, Luka Doncic, Candice Parker, Dirk Nowitzki , Kevin Durant and Karim Abdul-Jabbar have all appeared. This article introduces some new features and changes that coming to NBA 2K22.
NBA 2K22 New Features on PS4 & PS5
As was the case last year, the PlayStation 5 and PS4 versions will effectively be different games – but 2K Sports isn't skimping, regardless of which system you own. A completely reinvented City on PS5 will integrate the traditional MyCareer mode into it, meaning you'll be interacting with NPCs and exploring all of the locations as you continue your NBA journey. There'll be matchmaking – at last! – Across a variety of modes as well. Meanwhile, on the PS4, the Neighborhood has been reinvented as a Cruise Ship, which will make regular stops for special events. Both sound really cool, to be fair.
NBA 2K22 Seasons
Another big area of focus for NBA 2K22 are in-game Seasons. Like many other games, it appears NBA 2K is leaning even further into ongoing, seasonable content to keep players coming back. For NBA 2K22, seasons aren't entirely new, as they were in MyTeam in last year's game. But for NBA 2K22, Seasons are game-wide, spanning multiple modes. The game you play on day one won't be the same as the one you play in Season 2, 3, and so on, the developers said, adding that the content in Seasons is free for everyone. There will not be any battle passes, either.
"Across fan-favorite experiences, Seasons will allow players to extend and enhance their hoop ambitions long after the game's launch with more content, more rewards, and more ways to play," the developers said.
MyPlayer Mode
One aspect of MyPlayer that some players love, and others dread, is the narrative from MyCareer that it is frequently attached to. Usually, players are forced to go through a cinematic tutorial or play in one throughout their career with cutscenes and story segments. The quality of these stories has ranged from bizarre but fun to painful and grating. 2K is teasing that both console generations will have a narrative of some kind in the game, but how involved that narrative is right now is anyone's guess.
Rookieville has been cut
Similarly, the far-too-grindy Rookieville has been cut from NBA 2K22. This is a significant change, as it will allow for me to hop right into the best parts of MyCareer in The City: playing with my friends and getting to explore the newly populated areas. There will also be the freedom to explore business outside of the NBA, with new opportunities to develop clothing lines or even become a hip-hop star. Just how fleshed out these quest lines will be remains to be seen, but it does seem like an interesting step toward a better role-playing experience.
NBA 2K22 MT still plays the essential role in this gameplay, every players want to try their best to farm
NBA 2K22 MT
. If you do not have enough time, why not buy cheap NBA 2K22 MT at the secure marketplace Z2U.com, cheap, safe, fast, 24/7!