Phantasy Star Online 2 New Update: PSO2 New Genesis Livestream scheduled to be released in December
Phantasy Star Online 2: New Genesis is going to be released on PS4, Xbox One, Xbox Series X, and PC platforms. If you have questions about Phantasy Star Online 2 New Genesis, this short article will help you to get familar with this new update.
What is Phantasy Star Online 2: New Genesis?
An upcoming entry in the PSO2 series, New Genesis will be a massive update to the game. According to Sega, this update will overhaul just about everything, from the graphics engine to the gameplay mechanics. It's an update that fans of the series have been asking for, especially since PSO2 has been around for 8 years. It just didn't make it to North America until recently. There's also going to be a new day and night system and weather effects. The story is going to change as well, as this entry takes place 1000 years after the events of PSO2. Being that this time leap is so large, anything (and it looks like it will) can happen. Already playing the original game? That's ok, as you'll be able to bring over your characters to New Genesis, with some expectations. You won't be able to transfer over character progression, mesta (money) experience, skills, photon arts, or techniques.
Pre-recorded Phantasy Star Online 2: New Genesis Time
Sega will air a pre-recorded Phantasy Star Online 2: New Genesis official broadcast on December 19 at 3:30 a.m. PT / 6:30 a.m. ET / 20:30 JST, the company announce. You will be able to watch it on YouTube in English, and on YouTube and Periscope in Japanese. Hiro Arai will host the panel to deliver new details and systems about the upcoming project during the live-streamed event. This will be the first real content update since the game received a load of gameplay information during Tokyo Game Show 2020 Online Broadcast.
A New ARKs Hour Freebie Code
Oh, yes, And OG PSO2 held another ARKS Hour episode today. (That makes three for those of you counting.) As has been the case with previous episodes, the thing is an hour long chat about stuff going on in the game, general community activities, and the latest in CAST fashion. This time, they discussed the ongoing Thanksgiving event and the upcoming Episode 6 content. There's nothing new on either of those fronts, however. Although, you can see the turkey legs in action if you watch the stream. And, of course, there's the giveaway code. This one's a little different. Do not put it into the visiphone. Instead, you'll need to go into chat while you're on the ship and shout it in all caps. The code (also seen in the image below) is ARKSGIVING. Using this will net players a Lumiere Fonse, an SG 100 Ticket, and 3 100% Triboosts.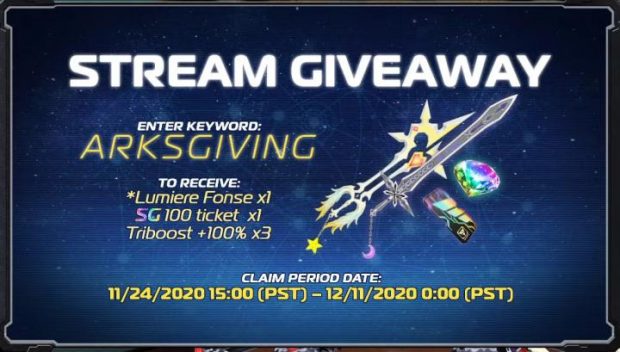 And Phantasy Star Online 2: New Genesis is going to be released on PS4, Xbox One, Xbox Series X, and PC platforms in 2021, do you expect for the coming of this new series? By the way, if you like our guide, service and products, please share our site 5mmo.com to your friends, who also need
Cheap PSO2 Meseta
.