Phantasy Star Online 2 PSO2 now has Surpasses one million players globally on PC and Xbox One platforms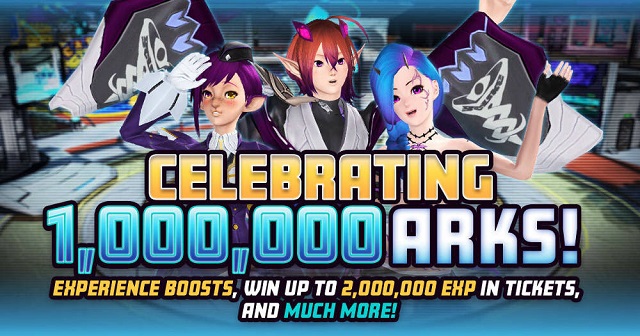 For many years, Sega's highly successful MMORPG game "Phantasy Star Online 2" has been limited to Japan or some other Asian regions. And now, this game has finally landed on the Xbox One/PC platform in Europe and America. This is a game with a strong Japanese style. Can this game be as successful as it is in Asia in Europe and America? Now it looks like it is doing pretty well.
The latest data shows that the number of players in "Phantasy Star Online 2" in Europe and the United States has exceeded 1 million. The news was announced through the game's special event "One Million ARKS Celebration". In the "One Million ARKS Celebration", the experience value, the drop rate of rare items, and the regeneration rate of rare enemies will be doubled, and all players have the opportunity to use experience coupons to obtain 2 million experience points.
"The teams have worked so hard to bring PSO2 to players around the world this year and I couldn't be prouder of their efforts," announced Fred White, Head of Marketing at PSO Team Global. "Launching worldwide has been a dream come true for all of us. Surpassing a million registered players this month is a good feeling, and we've got so much more in store for the game in the future to look forward to!"
To celebrate the achievement, SEGA is hosting the "One Million ARKS Celebration" in the game. Activities begin today and run until Aug. 26th. For a limited time, EXP, Rare Drop, and Rare Enemy Spawn Rates will all be increased +100%! What's more, all players will have the opportunity to receive up to 2 Million EXP through EXP Tickets. And players who log in for more than five days during the event period will be entered into a drawing to win 10,000 AC, 1,000 SG, or 10 AC Scratch Tickets. There will be 100 randomly selected winners for each prize.
Either way, Phantasy Star Online 2's arrival in the West has brought joy to a lot of players since its launch on Xbox One in March and on PC in May. It will be interesting to see what comes next for Sega and the game as players continue to enjoy everything that PSO2 offers.
At last, by the way, if you are lacking of Phantasy Star Online 2 Currency, you can also come to 5mmo.com. Here, you can find
Cheap PSO2 Meseta for Sale
, discount price, safe and fast delivery is also provided.